3AW Football broadcast schedule: Grand Final Day!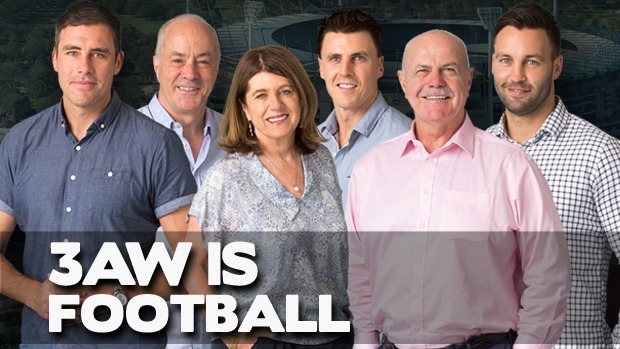 GRAND FINAL BROADCAST GUIDE
Friday, September 28
GRAND FINAL PREVIEW with Shane McInnes (8pm until midnight!)
Saturday, September 29
PRE-MATCH OUTSIDE THE MCG
10am – midday: Bruce Eva, Mick Warner, Daniel Harford, Leigh Matthews, Gerard Healy.
12pm – 2pm: Tim Lane, Jimmy Bartel, Tony Shaw, Mark Robinson.
WEST COAST vs COLLINGWOOD
Tim Lane, Tony Leonard, Leigh Matthews, Matthew Lloyd, Jimmy Bartel and Daniel Harford from 2pm.
3AW Football is Melbourne's top-rating football team in 2018, including:
Matthew Lloyd
Caroline Wilson
Leigh Matthews
Jimmy Bartel
Matthew Richardson
Cameron Ling
Mick Warner
Tim Lane
Tony Leonard
Daniel Harford
Tiff Cherry
Tony Shaw
Bruce Eva
Dwayne Russell
Shane McInnes
Nat Edwards
Nick Butler
Matt Granland
And more!
HOW TO LISTEN ONLINE in 2018
PRE-GAME: 3AW App or click here
MATCH STREAM: AFL app or website
POST-MATCH REVIEW: 3AW App or click here