3AW's De Bortoli Pub Of The Week: Tony Leonard reviews Crown Hotel, Lilydale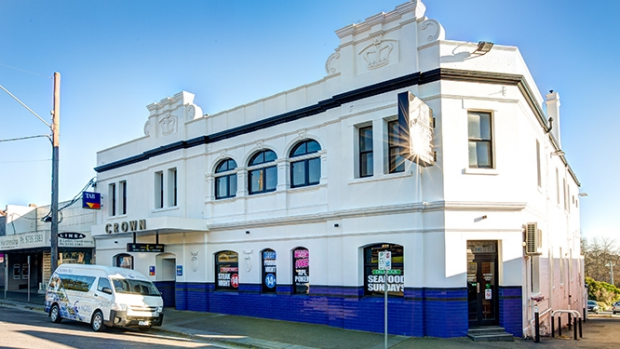 Pub: Crown Hotel
Where: 273 Main St., Lilydale
Phone: 9735 1619
Date: 6 November 2015
Score: 12.5/20
Internet: www.crownhotellilydale.com.au
OVERVIEW:
In the gloriously green, undulating outer suburb of Lilydale, the locals have two choices in pubs – Olinda Creek (part of the ALH Group) and todays review, the Crown (part of the Pub Co Group). (I am excluding the ALH owned York on Lilydale, which lives up the road in Mt. Evelyn).
Given the Crown's location, it would be reasonable to assume that there would be a point of difference given the location (close to Healesville/Yarra Valley) and the food options these beautiful areas can offer.
No, it's pretty much the offer from the majority of pubs that precede it on the Maroondah, which is summed up as Pub TAB/Pokies/Big dining areas.
That said, things are done on a smaller scale here and to be fair, the pub is neatly set out on a split level with the Pokies set downstairs, and the TAB/Bistro/Outdoor Patio on street level. White and blue are the dominant colours here and it is very neat.
The Crown covers the standard food and drink bases and is priced about the mark for pubs of its type. Happy hour is a real spoil with $3.50 pots. (This is something I tend not highlight but the standard of beer here is pretty good so the locals can live up to that arcane truism of the more you drink, the more you save).
There are nights for a spoil on the food – Burger day is Sunday and is cheap – while the pub is happy to run a decent promotion (trip to NZ available at the moment). Seniors can eat cheaply here with 3 courses for mid teens
It is uncomplicated, join the dots hospitality, which dependent on your POV can be a good thing.
From a gratuitous outsider's view, something different in the food and drink which sources local would have appealed, (but I understand the economics of buying when owned by a group).
And I wonder whether different is what the locals would like? My visit last Sunday may support that.
PRICE: bistro menu;
Entrees: $9
Mains: $24
Desserts: $ 8
Wine: $30/$7/glass
COMMENTS:
Comparing like for like, and the Crown has no issues. On entering, (from the Main St.,) you are met by a small TAB and the beer (4.7) a pot is good.
Through there to a lovely dining room, kitchen exposed, seats 70, all painted white with white venetians. It really looks good. To the back of the dining room is a patio (looks a recent addition) that overlooks the park below and doubles as both drinking and entertaining area.
The Crown enjoys a delightful location.
However, at Sunday lunch, a tick after 1pm, save for 3 tables, we are it. An aberration to the normally full, or even here, do the locals seek dining experiences a further 20kms out?
Entrees with an offer of oysters, and calamari, is small in number and mainly deals in breads and potatoes. It is stock standard.
The Crown likes to do salads such as Beef and Walnut Salad, thin slices of Beef tossed through a Garden Salad with Crispy Potatoes, Toasted Walnuts and finished with a tangy yoghurt dressing ($24), of a Lamb greek Salad, of kalamata and fetta, ($26).
I am a little concerned for the dedication of the chef with the Hand Fried Fish Fillets, cascade batter ($24); a descriptor I have not seen before.
Steaks go from $25-30, there is a range of pastas/risottos (21-26), and some other specials that read well.
The showstopper is Crown Meat Madness; A selection of 'tantalising' meat including Porterhouse Steak, Bacon, Chicken, Lamb Cutlet, Sausage and Slow Cooked Pork Ribs, served on a Platter with Beer Battered Steak Fries, Salad and a Side of Gravy. $40 boys and go your hardest.
The wine list is stock/standard and runs to the Treasury formguide, e.g., Pepperjack, Oyster Bar. Wine of choice – Seppelts Riesling was a non starter. Hmmm.
While it's not 'knock em out of the park' pub grub, it is safe and steady so the small amount of people dining is a bit of a head-scratcher.
Have the Liliydalians seen it all before?
TRIED:
? Thai Prawn Skewers, 4 fresh water Tiger Prawns infused in Fragrant Herbs and Spices, served on Jasmine Rice – $14. Fresh, tasty, deveined, beautiful sweet/spicy/sticky juices at the plate (and the right amount!!) well cooked prawns arrive on a singular skewer,


? Burger of the day – $13.50. (Sundays). 'Shrooms and Swiss. Big sized Burger that was OK without raving about it, mushrooms great, bread roll tended to come apart in the hand (but not big a deal),


? Pie of the day. Chicken Korma, Chips and salad. $16. Filling was tasty, enclosed pastry (well done), C&S stock standard,


? Lindemans Henry's Sons riesling. $24//$6. Very much an entry level wine, was way too sweet/fruity. But it was cheap.
SUMMARY:
It has been at least 15 years since I last went to the Crown in Lilydale. I remember last time asking for a Carlton, only to be told 'we don't serve that out here'.
(Remember when Homer J went to a hillbilly tavern when managing Lurleen and asked for a Duff, only to be told we don't serve that out here. Its Fudd only – That's what it seemed like).
Good news, they do now it's fine. And the locals lived to tell the tale.
The Crown still ticks over, pretty much to the formguide that most outer suburban pubs do. To reiterate, there's no shortcomings, but no lightbulb moment demanding a return and soon.
But I was left with another memorable moment. This time around I asked if the courtesy bus was available. (They provide one and good on them).
'Yes, it is, Where to' ? Moonee Ponds. Where's that?
Thank you Crown.