The sweet idea to recognise Major Brendan Nottle this Christmas!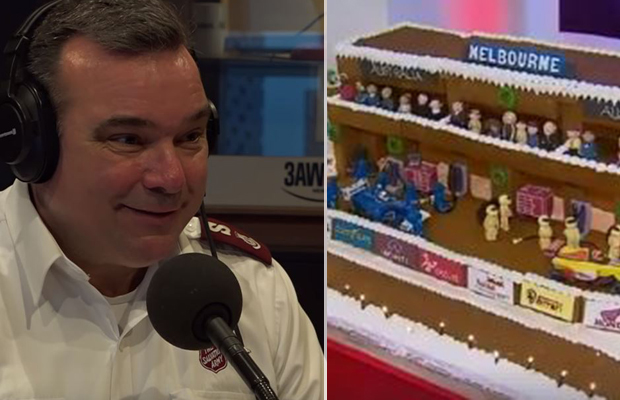 A plan to immortalise Major Brendan Nottle in the form of a sweet treat this Christmas has taken off!
Acting Lord Mayor Arron Wood told Neil Mitchell he wanted a figure of Major Nottle, made out of marzipan, at the Gingerbread Village at the Melbourne Town Hall.
Neil agreed, it's a silly idea, but a good one!
Hours are spent meticulously recreating Melbourne landmarks and the village is open to the public in December.
"Major Brendan Nottle does so much for our city, he's an amazing man," Cr Wood said.
"A great way to recognise a great man!"
Later in the show, Major Nottle said although it was a little embarrassing he thought it was lovely.
"I started to get worried about a potential marzipan shortage across the state!"
Last year, the Gingerbread Village put on by Epicure Catering raised more than $25,000 for the Royal Children's Hospital.
Rachel Dolan from Epicure Catering said they would definitely get on board.
"We can do better than that," she said.
"We can make lots of different Brendan Nottles out of icing sugar or marzipan, and we can locate them randomly around the Gingerbread Village when they come to visit!"
Click PLAY to hear more on 3AW Mornings
Photo: 9 News
Neil also suggested they could sell Major Brendan Nottle gingerbread men, to raise money for the Salvos.
And then Steve from Ferguson Plarre bakery called in, and said they'd support Neil's idea.
It seems the Christmas spirit is already alive and well.
Click PLAY to hear from Major Nottle + Rachel Dolan from Epicure