Bayliss rejects ball tampering talk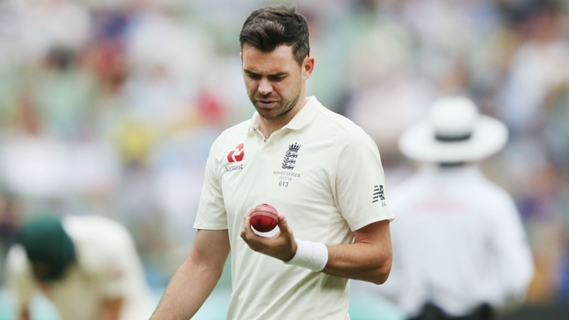 Trevor Bayliss says umpires have told him there is nothing to worry about amid talk of ball tampering by England at the MCG.
England coach Trevor Bayliss described suggestions of ball tampering by his side in the Australian media as "a bit of pommie bashing".
The tourists have dominated the fourth Test at the MCG having already lost the Ashes, Alastair Cook posting a double hundred and carrying his bat as England were bowled out for 491 in response to Australia's first-innings 327.
Australia reached 103-2 in their second innings on day four before rain forced an early halt to proceedings.
But on a day otherwise short of talking points, one was raised when Channel Nine's commentary team commented on footage of Anderson appearing to dig his fingernail into the ball.
"I'm not sure you are allowed to use your fingernail there," said former Australia spinner Shane Warne.
Co-commentator Michael Slater added: "That's interesting, you can't get your nail into the ball. That's a no-no."
Mike Hussey, also working for Channel Nine said: "It didn't look great, to be honest. There might be a little bit of a 'please explain' there for Jimmy Anderson."
England were said to have reacted angrily to reports of the incident in various Australian media outlets and an ICC spokesman has reportedly confirmed no action will be taken.
Speaking to BT Sport, Bayliss put any talk of ball tampering to rest.
"I did see it [the footage] during the rain break and as soon as I did see it I went to the umpires to find out what was going on and in their words it was a beat up," he explained.
"There was absolutely nothing to worry about. You're allowed to clean the ball and that's what we were doing. Absolutely no problem at all they said.
"If he [Anderson] was trying to rough it up he was trying to rough the wrong side up because that was the shiny side that his thumb was on, as he said he was getting some dirt and mud off the ball. If he was trying to do anything to it he was doing it wrong.
"We've had a good couple of days and there hasn't been a lot of positive press from their [Australia's] point of view. [So a] bit of pommie bashing there but we're used to that I suppose.
"We knew when we came here it was going to be 24 million versus 11 and we just laugh it off, it's part of the game, you've got to put up with it."
England now face an arduous task to claim victory. They must take eight wickets and then complete a potential run chase to register their first win of the series, with David Warner (40) and Steve Smith (25) both well set at the crease for Australia.
But Bayliss is hopeful England will not have to settle for a frustrating draw.
He told Test Match Special: "We would have liked to get out there but that's the game. We still have a chance.
"It is still a very good fifth-day wicket but we took six or seven quick wickets in the first innings. It is possible to do it again.
"The two best Australian batters are at the crease hopefully we can get them early and put pressure on the rest of their batting line-up."