Bird wired, tied and used as 'bait' in shocking case of animal cruelty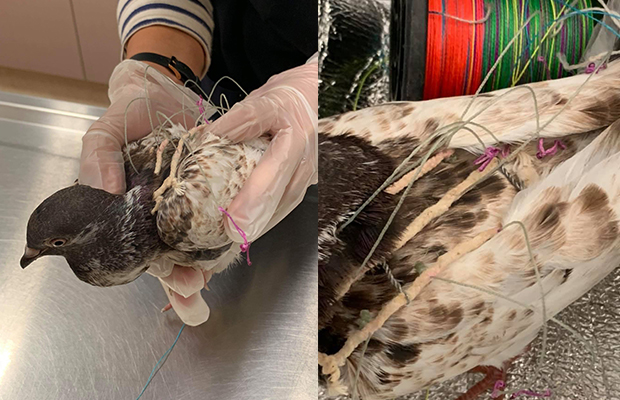 WARNING: GRAPHIC IMAGES BELOW
The Rumour File has been alerted to a shocking case of animal cruelty at Epping.
A pigeon has been hooked, wired and tied with fishing lines.
Witness Anna Balakas told 3AW Breakfast she saw a man "throwing" the hooked bird in the air in a paddock.
She said she wasn't sure whether the man was doing that for his own sick amusement, or in an attempt to locate the falcons to catch or bait.
Ms Balakas spoke to the the man, who claimed he had been checking if the bird was his missing pigeon.
"It's not my pigeon," the man told her.
Ms Balakas went to see if the bird was okay.
"To my horror I've seen the poor bird attached to a massive string line, wearing a harness that's made up of wire and rope and fishing line," she said.
"At this point there were already two falcons swooping it."
The pigeon was taken to the vet where it was euthanised.
"Sadly it would have died anyway. The harness had actually cut into its neckline,
"It couldn't feed."
Ms Balakas said the vehicle the man who threw the bird was driving was a white dual cab ute.
She has appealed for anyone with information about the incident to come forward.