Bland be banished! Scorcher reviews Atta in Albert Park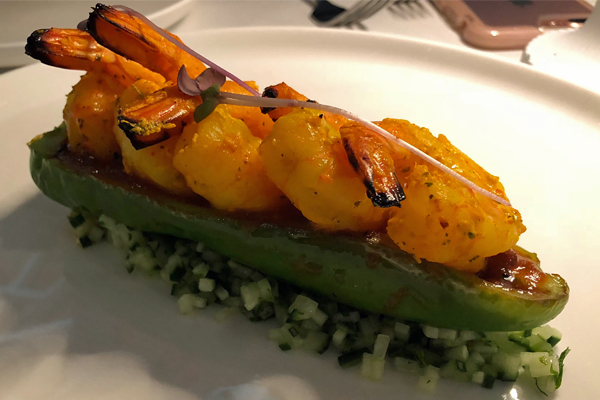 In my happy place there would be two things: aromatic, gloriously garlicy naan bread the size of a Siamese cat and succulent, superbly spiced lamb curry. A pairing almost without equal.
A close acquaintance recently remarked to me that whenever she eats out at an Indian restaurant she will, upon sitting back and reflecting on the meal, often wonder why she doesn't go out for a curry more often. With so many choices these days, Indian food may not always be front of mind but it's a cuisine that's dependable, if a little uninspiring.
But when you think about Indian food in Melbourne it can conjure up images of samey-samey dishes served with too much fire but not enough warmth. We have largely imported the British-style, colonial version of Indian cuisine, and subcontinental restaurants in this city are, on the whole, sloppy carbon copies of each other – with a few notable exceptions, of course.
But bland be banished. A stylish, lively, piquant palace of Indian delights has landed in Albert Park. It's named Atta (Hindi for wheat flour) and serves Indian food but not as you expect it.
This isn't your 10-buck vindaloo and have a spew kind of joint; at Atta there's a contemporary, playful approach to Indian cuisine, where modern cooking techniques are applied to traditional flavours. And the results are outstanding.
We started with the murgh tikka, aka spicy tandoori chicken with coriander infused oil. Aaah tandoori chicken. A familiar favourite, but this is one spiffy-looking dish. The chicken here has gone for a bit of a dip in a water bath, making it juicy, plump and packed full of flavour, and is served on a bed of baby spinach. An elegant little touch.
The showstopper entrée at Atta is the sikandari raan, super tasty braised lamb with dutch carrots and mint chutney, which arrives centre stage at your table in a smoky haze like an edible Phantom of the Opera.  The drama here is dialled up to 10, like an ebullient Bollywood film.
But now for the main event: it's curry time. We ordered the lamb bhoona with an extra spice kick and it landed blows in all the right places. Chef Harry Dhanjal – who is entirely self-taught; learnt his craft by travelling the vast and varied regions of India – slow cooks the lamb for five hours in a pool of spicy tomato sauce, a perfect reservoir to plunge your wodge of naan bread into.
The beef Kashmiri curry was an all-singing, all-dancing affair too. While it's suitably spicy, you also get fruity sweetness bursts of paw paw, sultanas and dates – the tender beef's three little helpers. Nothing's ever daal at Atta.
Atta has the warmth and feel of your traditional local curry house but looks and tastes like something modern and new. Indian re-imagined.
Upscale curries, down-to-earth naan breads – a ticket to my happy place.
Atta, 159-161 Victoria Avenue, Albert Park; www.attarestaurant.com.au ; 9696 3388