Bob Hart's ultimate barbecued steak recipe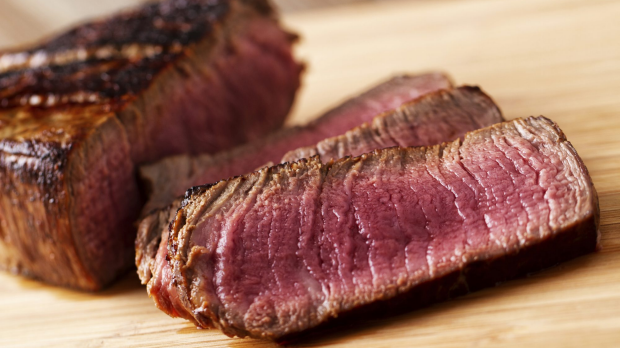 Surely the most handsome steak in existence is a perfectly balanced T-bone ? one with a sturdy allocation of sirloin on one side of the 'T', and a generous slab of eye fillet on the other.
And fortunately, this is also a steak that tastes as good as it looks – provided you treat it responsibly, and are careful not to cook it beyond the rare side of medium rare under any circumstances.
This, of course, is the steak feature on the cover of my new barbecue book ? Heat & Smoke II.
The first Heat & Smoke also featured a steak on the cover, a magnificent rib-eye on the bone.
But this one, which weighed in at around 1.2kg, I decided to prepare in line with Italian traditions, and serve it as a bistecca fiorentina which I consider to be the Sophia Loren of steaks.
And I really, really like Sophia Loren.
There is, quite simply, no better way to cook a steak as good as this than on a cast iron grill on a covered barbecue.
It is, of course, a serious responsibility. You only get one chance at this per steak, so you can't afford to get it wrong. So here is what you have to remember:
First of all, this is a serious piece of beef, so do not expect it to be cheap. You will have to go to a real butcher for one of these, and not a supermarket.
Because if you want one this big, and with the fillet in place, you must order it and have it cut for you.
And it should ideally be cut from a side of prime, dry-aged beef ? all of which will add to the price. But, just this once? And remember, this is not a steak for one.
It will feed two very serious beef eaters, and up to four. And feed them very well.
So, order and collect your steak. Remove it from the fridge a couple of hours (at least) before cooking it to bring it back to room temperature.
And ? this may surprise some people ? salt it well with sea salt.
Then, prepare a dry rub to apply just before you cook it by grinding, ideally in a mortar and pestle, with 1tbs black peppercorns, a (further) tsp of sea salt crystals and 1tbs of freshly-picked rosemary needles.
Now, fire up a very hot gas grill ? a Weber-Q or a Genesis will do the job, but get that temperature above the 200C mark ? or, my favourite, a kamado such as a Primo grill or a Weber kettle with a cast iron grill.
Ensure your grill is clean and lightly oiled before you bring it up to heat ? covered of course. Now lightly oil your steak, apply the rub, and get to work.
Use a timer because you are going to cook the steak, if it's over 1kg, between 12 and 16 minutes in total, depending upon how rare you like it.
For me 12, but it's your steak, so it's your call. And 16 minutes does it magnificently (as in our picture). With a smaller (thinner) steak, it's harder to keep it moist and pink, but you can do so if you are careful and reduce the cooking time proportionally.
The important thing is to divide the cooking process into four segments, time them precisely, and move the steak after each segment.
Start with it at 45 degrees to the grill bars, flip it after a quarter of the cooking time (say, 4 minutes), flip it again and move it through 90 degrees after another 4, and repeat. Sixteen minutes, four positions, all covered, will deliver impeccable grill marks which ensure maximum char flavour. If you are cooking over charcoal, remember to add a handful of wet chips 15 minutes or so before you cook your steak, Also, keep an eye on things during cooking and deal with flames if they should appear. But with a top quality, covered barbecue, you should not have a problem. Just remember to tread lightly with the oil, and keep things under the 250C mark.
Now, while you are cooking the steak, warm a baking dish which contains a cooling rack, which you also warm, and have this standing by. Place the cooked steak on the rack, loosely tent it with foil, and place it in a warm place (but NEVER a hot place ? not in an oven or on a rack in a barbecue, for example) for at least half the cooking time to rest and collect its thoughts. I always give it a few extra minutes. And if you then wish to carve it in the traditional manner ? by slicing both the sirloin and the fillet carefully from the bone and then dividing into thick slices by carving across the grain and placing them back up against the bone as the picture shows.
Finish with a squeeze of fresh lemon juice, and serve.
Now eat. Perfection? Yes, I think that's probably the word for it?