Bob Hart's Asian Salmon Burgers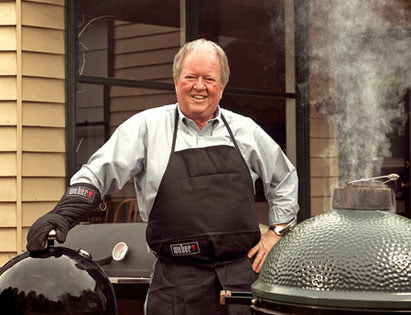 THE PERFECT BARBECUED SALMON BURGER
It strikes me as odd that one of Australia's most popular fish – one eaten, research has revealed, by 24% of Australians at least once a week – is not even native to our waters.
That fish, of course, is salmon. And it is a fish that is only available here in a farmed form because salmon – both Atlantic and Pacific salmon – are native to the northern hemisphere.
Curiously, that does not seem to bother us. And while we love King George whiting, flathead, even rockling rather a lot, we seem to like salmon more than any of those.
The fact that it is extraordinarily high in omega-3 fatty acids and is often promoted as a superfood may help. But the important aspect would seem to be the gentle taste which offends nobody and, in fact, makes it the only fish some people are prepared to ingest.
I love salmon, especially the Pacific salmon farmed in New Zealand which have a higher oil content than the Atlantic salmon from Tasmania and, therefore, work better on the barbecue. And to me, iy tastes better than many of our Tassie offerings.
Any salmon, however, can effortlessly be turned into a magnificent burger, as you will discover if you try my Asian salmon burger – a gentke, barbecue classic and one of my favourites. The Asian inflection I have given this burger makes all the difference. Try this:
Skin, pin-bone and very coarsely chop about 5-600g of fresh salmon. Place it in a food processor and pulse it a few time to coarsely chop it, being careful not to over-do this process and turn it into mush. Tip it into a bowl and add 1 tbs minced, fresh ginger with any juices, 3 cloves crushed garlic, 2 finely chopped spring onions, white and green parts, 2tbs chopped coriander leaves, 1tsp sea salt, the juice of half a lemon and 2tbs soy sauce. Combine well with 3/4 cup of Panko (Japanese) breadcrumbs. Ensure everything is well well mixed and divide into four patties. Place on a serving platter and refrigerate for about half an hour to set them.
Oil the patties lightly and cook them, covered, on a hot, oiled grill for about 3 minutes a side, turning through 90 degrees on each side after half the cooking time. Lift them off and rest them while you prepare the buns.
Split four brioche (or milk) buns (Dench Bakeries make very good ones). Lightly toast these, spread with Best Foods mayo laced with either a squeeze of wasabi from a tube (my favourite) or finely chopped fresh dill and a squeeze of lemon. Add some chopped lettuce, then the patties, and then some thin slices from a large dill pickle. Eat.
And remember: it's salmon, it's a superfood, and it's doing you good, apparently. But never mind. Eat it anyway!