Bob Hart's Grilled Thai Prawns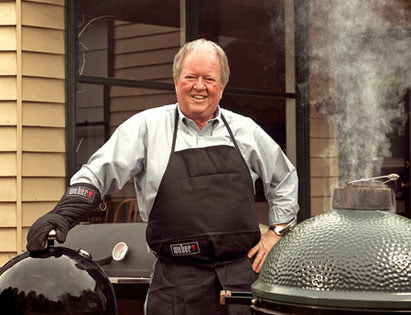 GRILLED THAI PRAWNS
This is the time of the year when eating prawns, and lots of them, is something with which many of us are preoccupied. Not that there is anything wrong with that…
There are, fortunately, lots of prawns in the shops at the moment, and I can think of no reason for us all not to buy lots of these – especially large, green (raw) ones from Australian waters. Which are delicious.
(Steer clear, however, of dodgy creatures rudely farmed in sewers to our distant north. Imported peeled prawns, especially, should be avoided.)
And once you have bought a dozen or two of the very best of these magnificent creatures, try this for a stunning prawn dish of Thai persuasion.
It's a cracker!
INGREDIENTS:
1-2 stems lemongrass (white part only)
1 small knob fresh ginger
1 smaller knob fresh turmeric
2 cloves garlic
2-3 coriander roots
1 tsp white pepper
½ cup whisky (local is best)
½ cup fish sauce
½ cup coconut cream
12 king prawns
METHOD
Blitz the first six ingredients to a fine paste. Stir in the whisky, fish sauce and coconut cream and mix well. Prepare 12 large king prawns – heads and shells in place, but de-veined by carefully splitting them down the back with a small, sharp beak-knife and lifting out the poop tube – and douse with this marinade.
Refrigerate for 1-2 hours.
Then, position the prawns in groups of four on a cutting board, parallel to each another in those groups, and skewer them into rafts with two metal skewers for each four prawns, ready for the grill.
If you are cooking over charcoal, add a touch of hickory and cook at aroundthe 200-220C mark. But they cook brilliantly on a covered gas grill, also, at around the same temperature.
Place the rafts or individual prawns on the clean, hot and oiled grill and cook, lid down, for 1-2 minutes a side, or until the prawns are cooked to your liking. Serve them hot with a squeeze of lime and possibly a dip of sriracha mayo, simply made by stirring a squirt or two of sriracha sauce into some Best Foods mayo.