BOB HART'S – PERFECT PORK CUTLETS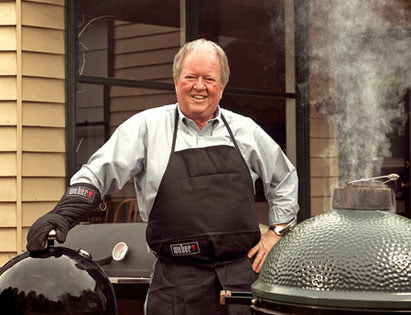 PERFECT PORK CUTLETS
There are few more desirable cuts of meat than a perfectly butchered pork cutlet – unfrenched, ideally, and with the skin removed if you like.
Two basic pieces of information will help you to perfect the cooking of this barbecue classic, and they are:
Brine four cutlets, but for only about five hours, and in a brine made with one of the fruity, slightly sweet modern ciders such as a Monteith's Crushed Apple: to prepare this, pour a 330ml bottle of the cider into a bowl and stir in half a cup of sea salt, 1 generous tsp of black peppercorns, coarsely cracked, along with a few sprigs of any fresh herbs you have to hand (I generally use a fresh bay leaf and sprigs of, say, thyme, rosemary and tarragon) pounded together. Pour this marinade into a resealable plastic bag, add the cutlets, seal the bag, ensure the cutlets are well coated and refrigerate for at least four or five hours, but not much more. This is pretty much the perfect brine for pork, and it will ensure your cutlets remain moist and tender. Provided you…
Do not overcook the cutlets once you have lifted them from the brine, rinsed them and patted them dry with paper towels, whereupon you oil them lightly with EV olive oil and fire up your grill to around the 220C mark. If you are cooking over solid fuel, add a touch of hickory. But whatever fires up your grill, ensure, as ever, that it's hot, oiled and clean, and that the temperature is recorded with the lid down! And for heaven's sake, keep it down for cooking, also. But you know that, don't you?
And now, the really vital bit: cooking time will vary according to the thickness/weight of the cutlets, but if you follow my usual grill technique of placing the cutlets on the brill at 45 degrees to the bars, then flip, then turn through 45 degrees and flip again, the cooking time should never be more than 2 mins in each position, for a maximum cooking time of 8 minutes. I tend to make it closer to 6 minutes, but 8 is OK. In either case, remember to loosely tent the cooked cutlets in foil and to rest them – in a warm, but not hot place – for half the cooking time.
Finally, a light glaze helps. Try melting 1 tbs red currant jelly with a similar quantity of unsalted butter, whisking to combine well, and brushing over the cutlets.
And as with all barbecued dishes, the better the meat you source, the more delectable the final result will be. Here, you are looking for moist, tender grilled cutlets, with just a blush of pink at the bone, lightly sweetened with the glaze. And you happen to serve them with a large, roasted sweet potato, peeled and mashed with butter, salt, pepper and a splash of maple syrup, who could blame you?