BOB HART'S PRAWN & CORN TACOS RECIPE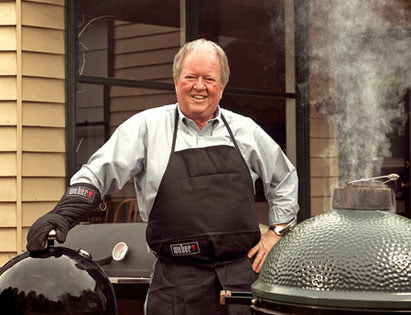 BOB HART'S PRAWN & CORN TACOS
Tacos and Australians, I reckon, were made for each other. These Mexican-ish gems are casual, loose-fitting and entirely delicious. A bit like us, really. Some of us, anyway.
And the best way to make memorable tacos is over a barbecue and, better still, over a charcoal grill with a waft of hickory smoke and a bad attitude. But relax – these work perfectly on a gas grill such as a Weber Q or a Weber Genesis, also.
Try, for example, these incomparable prawn and corn tacos to which I am seriously addicted.
INGREDIENTS
4 small tortillas, flour or corn – your call (I love both)
6 large green (raw) king prawns, thawed
2 cobs fresh corn, husks in place
½ cup chipotle mayo  (see below)
2 limes, quartered
1 cup microplaned parmesan cheese (or crumbled Cojita cheese if you value authenticity over excellence)
One ripe avocado
Salsa of choice (try the Que Pasa organic – a great all-rounder)
Freshly ground black pepper
METHOD
To roast the corn, peel back the husks into ponytails, strip off the silk and roast the corn on the grill, turning until the corn darkens in colour and a few blackened kernels appear, 6-8 minutes. Lift off the grill, allow to cool slightly and hold by the husk/ponytail as you slice the kernels into a bowl.
Prepare the prawns for the grill, either singly or in rafts, as in the previous recipe. Brush them with a mixture of olive oil and lime juice and grill them – quickly and covered – on that same grill. Cook for around 2-4 minutes, depending on size, turning them at the halfway mark. Remove from the grill and rest for a minute or two before sliding them off the skewers if necessary and, in all cases, carefully removing the heads and shells, and splitting the bodies lengthways. Quickly flop the tortillas on to the hot grill and flip after about 20 seconds. Remove after another 20 seconds and line these up on a warm platter. Brush the top of each tortilla evenly with chipotle mayo (Best Foods mayo laced, to taste, with some puree made by blitzing a small tin of Chipotle Peppers in Adobo), position three prawn halves down the middle of each and dress with a squeeze of lime and a grind of black pepper.
Now, distribute the corn evenly over the prawns and sprinkle the grated cheese over the lot. Finish with a few slices of fresh avocado, a few dollops of salsa and a final squeeze of lime. Roll or fold and eat. Noisily, if you like.
And with a very cold beer…