Bob Hart's – Rhubarb & Raspberry cobbler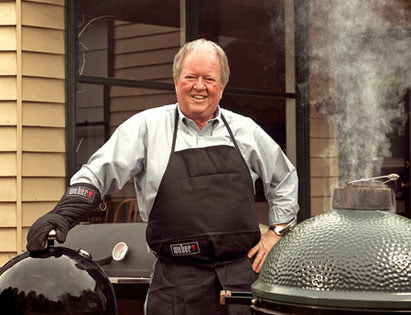 Rhubarb & Raspberry cobbler
Like everything else eaten in the course of a serious barbecue – which should, of course, be increasing in frequency at this time of the year – desserts (or puddings as I prefer to call them) MUST also be cooked on the barbie. No question about it.
My favourite just happens to be the one you will most often be offered at US barbecues: a fruit cobbler which is, essentially, a pie dish of fruit, usually stone fruit, topped with a thick crust achieved by layering the pudding with scone-like dough balls. With lashings of cream, ideally.
This is a stock standard dessert which is easy enough to make in an oven in the kitchen. But if you really want to experience cobbler barbecue magic, do nothing of the sort. Instead, try this…
Assemble the following:
The Filling:
1kg rhubarb, trimmed into 1cm pieces; 1 punnet fresh raspberries; 1 cup plus 2 tbs sugar; 2 1/2  tbs cornflour.
The Scones:
1 cup plain flour, more to sprinkle as required; 2/3 cup polenta, ¼ cup caster sugar; 1 1/2 tbs baking powder; ¼ tsp sea salt; 125g unsalted butter cut into 1cm cubes; 2/3 cup pouring cream.
Preheat a barbecue to 150-16OC with some sort of a deflector in place – you are seeking indirect heat, covered of course.  Combine the fruit, sugar and cornflour and rest mixture while making scone dough by placing plain flour, cornflour, sugar, baking powder and salt in a food processor. Pulse to combine.
Add butter and pulse until the mixture resembles bread crumbs. Add cream and pulse until mixture starts to come together, then turn in onto a lightly floured board and pull it togerher into a lump without mixing further. Divide into 8 balls and flatten them slightly into thinnish scones.
Tip the fruit filling and accumulated juices into a 25cm oval baking dish, or similar. Position the scones on top of the filling and brush them with pouring cream. Place in the centre of the barbecue for 40-45 mins or until golden. Eat.