Boomers brawl: Basketball game descends into chaos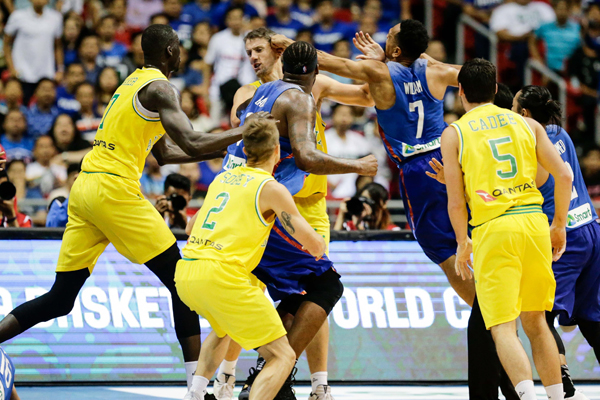 A vicious all-in-brawl has broken out between basketball players from both sides at a World Cup qualifier in the Philippines.
The violent fight broke out at match between Australia and the Philippines.
The Boomers were poised to notch a convincing win, leading 79-48 with four minutes remaining in the third quarter, when Aussie Chris Goulding was fouled by Filipino guard Roger Pogoy.
Boomer Daniel Kickert retaliated with another elbow in the face, then all hell broke loose, with punches, elbows, kicks and even a chair thrown at Australian Nathan Sobey.
Several Philippines players, substitutes and members of the crowd piled on top of a Boomers player in the fracas which interrupted the game for about half an hour, before 13 players were ejected.
Aussie basketball great Andrew Gaze said the incident was a "stain" on the sport.
"It was really upsetting," he said.
The Philippines coach was heard on the coverage urging his players to "hit somebody" before the brawl.
"He's got a lot to answer for," Gaze said.
"You always put a little asterisk next to because sometimes you use language that you don't mean literally."
Click PLAY below to hear more
Shane Heal was calling the game for Fox Sports and said he and other commentators couldn't believe what they were seeing.
"You could tell from the start there was a lot of niggles," Shane told 3AW Breakfast.
"I think Daniel Kickert overreacted to an unsportsmanlike foul and it certainly escalated after that.
"The behaviour of the Philippines team after that, with king-hits, chairs thrown and the sort of brawl that we saw was just inexcusable."
Click PLAY below for the full interview
Matthew Dellavedova was playing in the game and his manager Bruce Kaider was in the stadium when the brawl escalated.
"I don't think anyone expects this sort of thing to happen in a basketball game," he said.
"Honestly, there was fans and officials, a whole range of officials behind the bench, that's the scariest thing."
Basketball Australia chief executive Anthony Moore is expected tofront the media in Brisbane today, where its expected the Boomers will be reprimanded.
Click PLAY below to see vision of the fight
Here's the crazy, violent brawl from the Australia-Philippines game. pic.twitter.com/hSpEyyjU7u

— Olgun Uluc (@OlgunUluc) July 2, 2018
Photo: AAP