Wayward car drives through busy Bourke St Mall — 'How'?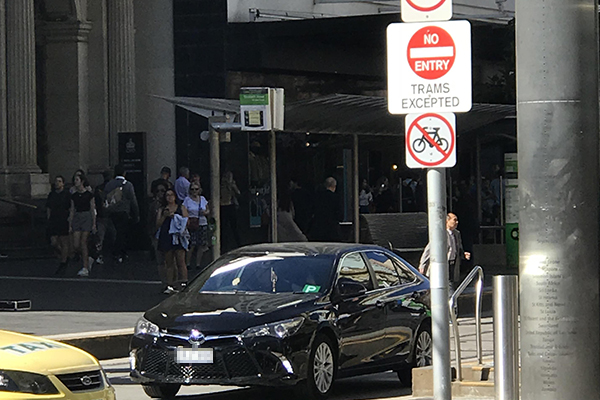 The Police Minister has told Tom Elliott mechanical bollards in Bourke Street remain on the agenda after a wayward car drove down the busy pedestrian mall yesterday.
Word On the Street caller Dallas alerted Tom Elliott to the incident yesterday (pictured above and below), in which inexperienced driver accidentally turned into the street and drove down the tram tracks.
In doing delivering the report, Dallas posed the question: How is a car so easily able to drive down the mall in 2018, many months following the Bourke St rampage?
Click PLAY to hear from Dallas
Glad to see some focus on this, but regulars in the Bourke St Mall know it happens all the time.
(Was the tipoff from @ScanAustralia??) https://t.co/Iqr4vo6JNe

— Daniel Bowen (@danielbowen) February 13, 2018
Police Minister Lisa Neville said it was clear from the photo it was an inexperienced driver driving along tram tracks near the Bourke Street mall.
She told Tom Elliott they were looking at ways to reduce the number of vehicles, including delivery vans.
"The security group that's working on the bollard system is finalising on their recommendation on what we do on the tram tracks," she said.
"The idea would be to have some block on those tram tracks that trams could initiate and other emergency vehicles."