CBD bedlam expected: 90,000+ footy fans and anti-right protesters to swarm city tonight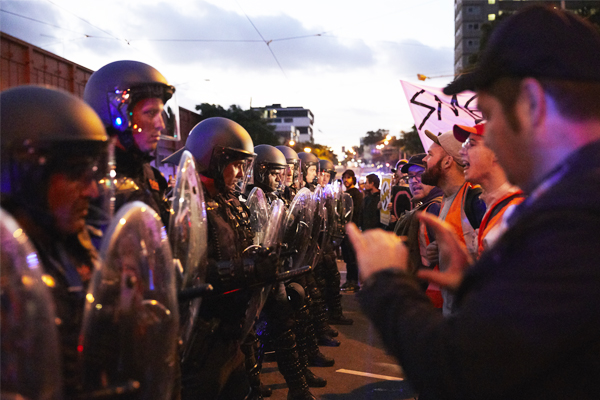 It's expected to be mayhem in the Melbourne CBD tonight, as 90,000 plus footy fans head to the MCG, an anti-right protest gets underway and police begin a new stop and search blitz.
From 2pm today to 1am Saturday police will be able to stop pedestrians and drivers in the area bounded by Spring St, Bourke St, Flinders St and Russell St, searching them without warrants.
That and AFL aside, The Campaign Against Racism and Fascism is planning a protest outside the Sofitel on Collins St, where British politician Nigel Farage is due to speak.
It's the same group who protested the Lauren Southern and the Milo Yiannopoulos events.
Campaign spokesperson Chris Di Pasquale told Neil Mitchell they have planned the "Protest Smug F*** Farage" event for tonight.
"We want to have an anti-racist, loud vibrant protest, after which we're going to go over and march over to where Cheslea Manning is due to be doing a live cross," Chris said.
"This is the hyprocrisy of the right, is that they like to crow about free-speech while being given the absolute widen platform possible.
"If you're going to go and support the far-right you need know that people are going to oppose that, because the far-right it beyond the pale."
Click PLAY below to hear the details
"As a result we've got 93,000 people down one end of town trying to get to the footy and just have a nice night, you've got these people marching around town, you've got police designating areas where they can stop anybody and search them without a warrant, can't we just enjoy the moment?" Neil said.
"You may remember I spoke to Farage two weeks ago, he was one of the driving forces behind Brexit former leader of the UK Independence Party.
"He says a lot I don't agree with but I raised the immigration issue with him and he says he's not anti-immigration, he says he is pro-integration."
Victoria Police sent 3AW the following statement:
Victoria Police is aware of a planned event on Friday 7 September. Public safety is our number one priority and there will be a strong police presence on the day to ensure the community is safe. Responding to events and protests forms part of the role police officers undertake on a day-to-day basis. We are equipped and well-prepared to deploy resources, respond and intervene where needed. Individuals have the right to lawfully attend events and protest, however we ask that people do so peacefully and respectfully without impact on the rest of the community. Victoria Police will not tolerate those who break the law or engage in antisocial or violent behaviour.