Concerns over CBD protests that have 'disaster written all over them'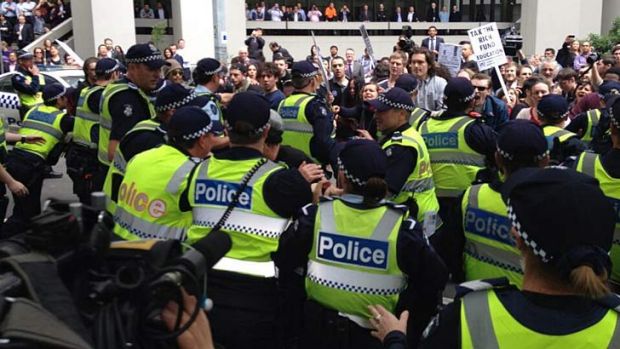 Neil Mitchell has expressed his fears for protesters in the city on Wednesday night.
Opposing sides of the Israel-Palestine conflict will hold rallies within metres of each other, with police saying they cannot guarantee the safety of participants.
The initial protest will take place at Federation Square in support of Palestine, opposing recent security measures placed at the Temple Mount without the consultation of local Muslims.
A counter-protest is organised across the road on the steps of Flinders Street Station.
"That's got 'disaster' written all over it," Neil said.
An organiser of the second protest, Aaron (not his real name), told Neil they are just exercising their democratic rights.
Neil suggested they didn't have to hold their rallies at the same time but Aaron, 16, said it's been organised like that so they can open a dialogue.
"They're going to be saying they're against Israel, we're going to try to ask them questions, have conversations, engage in debate," he said.
Click play to hear from Aaron
In response, an organiser of the initial protest said it doesn't matter how peaceful the second demonstration is.
"(Choosing) to protest in the same space, that in itself is an act of provocation," Nasser Mashni of Australians for Palestine told Neil.
But Nasser said he's also open to debating the issues with the opposing side.
"There will be no violence from our side tonight," he said.
Neil said he thinks the whole situation is asking for trouble.
Click play to hear from Nasser