Copenhagen in food: Kate's tips and recommendations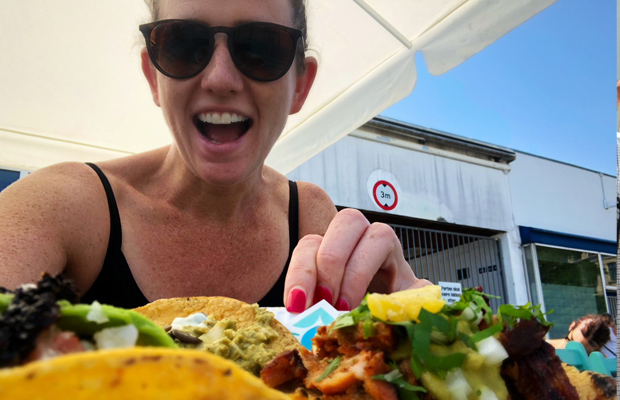 By Kate Stevenson
Okay, so there's only so many things you can see, do and eat in amongst nightly radio programs in a city like this, but here are a few edible highlights from our time in Copenhagen.
Three things you must try:
Smorrebrod – the famous Danish open sandwiches, suggested to us as the best places to try them were Peder Oxe, Aamanns & Schonnean. We went with Peder Ox and weren't disappointed, it's on a big open square in the centre of town with outdoor seating and multi-coloured buildings just ooooozing hygge. The beef tartare was an easy winner.
Pickled herring (and any other pickled or smoked fish) – it's just really good
A tasting menu somewhere … it can be as expensive as Noma ($475 for food only), or as affordable as Frank (8 courses for $105), but these guys really do fine dining well.  Other recommendations for restaurants with tasting menus are Naervaer, Geranium, Amass, Host, Studio.
Our foray into fancy
Based on recommendations, we booked into Naervaer and it was a cracker!
A brilliant position on the water opposite Nyhavn, the deck outside is super popular with half of Copenhagen. There is a more relaxed wine bar that does nice snacked, but we booked into their fine dining restaurant.
The name means "to be present", and that you are in one of the just 14 seats around the kitchen. You'll have the perfect, up-close view as owner and chef Yves Christian-François Le Lay and his two colleagues silently, and seemingly effortlessly, plate up mouthwatering dishes.
The standouts for me? Well, the entire meal honestly was superb, but if I had to pick two favourites, it'd be the Brown crab with tomato, coconut and red curry. And the grilled mackerel with wakame, seaweed, pink grape and cashew)
And I did love the cheeky dessert of Tivoli Sprinkles – a colourful bowl of popping ice-cream sprinkles.
It's not cheap, but it wouldn't be in Melbourne either. You're looking at $AUD420 for six courses (that's actually 10 dishes) and matching drinks.
Hipster Copenhagen
Has to be the Meatpacking District – part gritty (and I mean gritty), part funky, a seriously large number of options from low and slow cookin' Brewpub, Warpigs; Mexican taqueria, Hija de Sanchez; Italian pizzeria, Mother; French bistro Pate Pate; and a modern take on Smorrebrod at Fleisch.
Dish of the Week
Ruling out Naevaer because it's such a special occasion restaurant, So, I'm giving it to the barbecue lobster tail with pumpkin & coconut at Frank. A stunning piece of tail, cooked to caramelisation, a rich curry-like sauce on the side, it was a beautifully simple dish but so damn tasty. Frank wouldn't be out of place in Collingwood, super cool, very friendly service and decent prices for this city of painful exchange rates, This dish itelf was pretty good value at $AUD39.