Councillors flee as coffin-bearing protesters storm Moreland meeting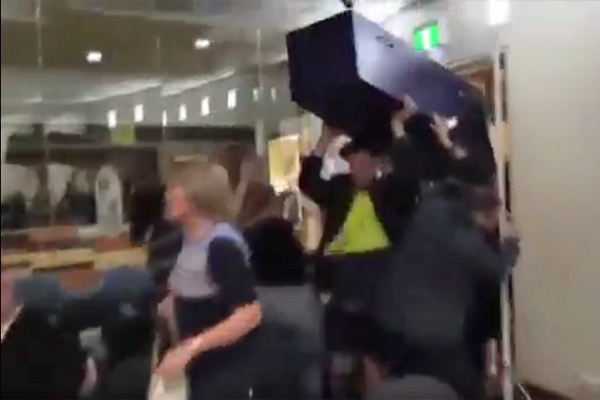 Far-right protesters have forced Moreland councillors and members of the public to flee last night's meeting.
And they've vowed to return.
Video of the incident posted online shows several demonstrators — some of them dressed in niqabs, others holding a coffin with the Australian flag on it — storm the council meeting shortly after 8pm.
Moreland mayor Helen Davidson told Neil Mitchell it was "one of the most horrible experiences" she'd had on council.
"It was quite confronting and residents were crying," she said.
Far-right demonstrators again disrupted a Moreland Council meeting last night, this time holding a coffin. @3AW693 pic.twitter.com/6mhnqevrQ8

— Pat Mitchell (@patty_mitchell) October 11, 2017
Ms Davidson said council had supplied police with footage and would be pursuing the matter.
"This is far beyond what they're entitled to do,"
"We can't be put in fear of expressing our views."
Click PLAY below to hear the mayor speak with Neil Mitchell
Neil Erikson from the United Patriots Front said the group was just expressing its democratic rights.
He accused Ms Davidson and security of instigating violence.
"She (Ms Davidson) clawed me in the neck," Mr Erikson said.
"I'm not going to take it further – I'm a big boy."
Police were called but the demonstrators left voluntarily before officers arrived.
It is the second time the group has ambushed a council meeting since a decision not to celebrate Australia Day on January 26.
Mr Erikson guaranteed there'd be a third protest.
"Yeah we're definitely going back," he assured Neil Mitchell.
"I can't say when."
Click PLAY below to hear Neil Erikson on 3AW