'Courageous': Tennis world divided over Serena Williams controversy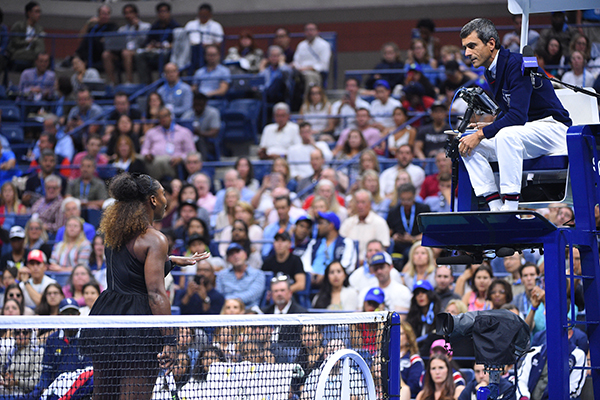 Former chair umpire Richard Ings has come out in defense of his friend Carlos Ramos over the controversial match which saw Serena Williams lose the US Open final.
Williams, who was vying for her 24th Grand Slam title, copped three code violations in a fired up match against Naomi Osaka, which has divided the tennis world.
In extraordinary scenes, she called him a thief when she was given a violation for smashing her racquet, and maintained she was unfairly penalised in the game against Naomi Osaka.
"I've seen other men call other umpires several things," she said after the match.
"I'm here fighting for women's rights and for women's equality and for all kinds of stuff."
Speaking to Ross and John, Mr Ings, said Ramos made some "courageous calls" for breaches during the match and rejected claims there was a double standard or sexism at play.
"I know Carlos personally, I want to get that out there, he's been a professional umpire for more than four decades," he said.
"I feel very sorry for him, he went through a difficult match. But (I have) admiration for him for the way he properly and correctly applied three very clear and blatant violations of the code of conduct.
"These issues of sexism and racism just don't apply at all in this match, these were breaches of the code of conduct, clear and obvious for any umpire, and courageously called."
Click PLAY to hear more on 3AW Breakfast
USA Today columnist Kurt Bardella wrote an opinion piece in support of Williams and said she kept her composure and her "rhetoric clean".
"She's 100 per cent right," he told Neil Mitchell.
"Time and again, we see male athletes, when they see that kind of emotion, it's called passion, intensity, competitive spirit.
"When Serena Williams does it, for some reason it's a meltdown, an outburst."
He said she was unfairly subjected to controversy because of her stature.
Click PLAY to hear more on 3AW Mornings
Photo: PA