"Cut 'em up, don't cut 'em out": Message to support strawberry farmers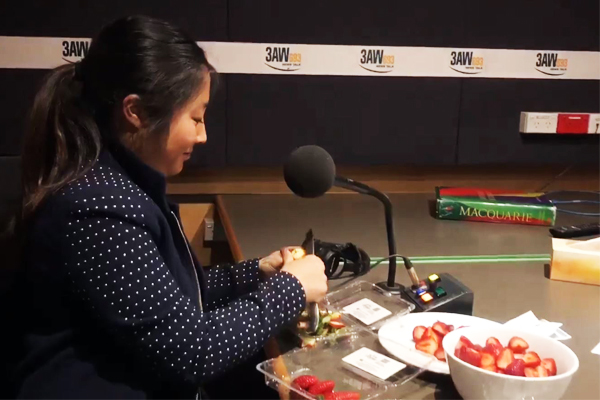 Farmers have been forced to dump thousands of tonnes of strawberries, as supermarkets stop stocking them in the face of the discovery of sewing needles in the fruit.
3AW Breakfast has jumped on the #smashastrawb bandwagon and scoffed some strawberries for brekky this morning.
"At just $1.60 a punnet there's no excuse not to buy them, unless you're allergic!" Mikkayla said.
John Hasan, owner of J & A Hasan Strawberry Farm in Wandin East told Ross and John Victoria's strawberry season doesn't start till October, and it's hoped the same issues don't affect local growers.
Click PLAY below to hear the details
That's the one! https://t.co/JDDyc2BrjF

— 3AW Breakfast (@RossAndJohn) September 18, 2018
Strawberries are only $1.60 a punnet. Unless you have an allergy, there's no excuse not to go #smashastrawb today! We're having ours with yoghurt & cream! @RossAndJohn @MissKateStevo @3AW693 pic.twitter.com/Il7svj9OVt

— Mikkayla Mossop (@MikkaylaMossop) September 18, 2018