Dining with Den – Broccoli & Potato Soup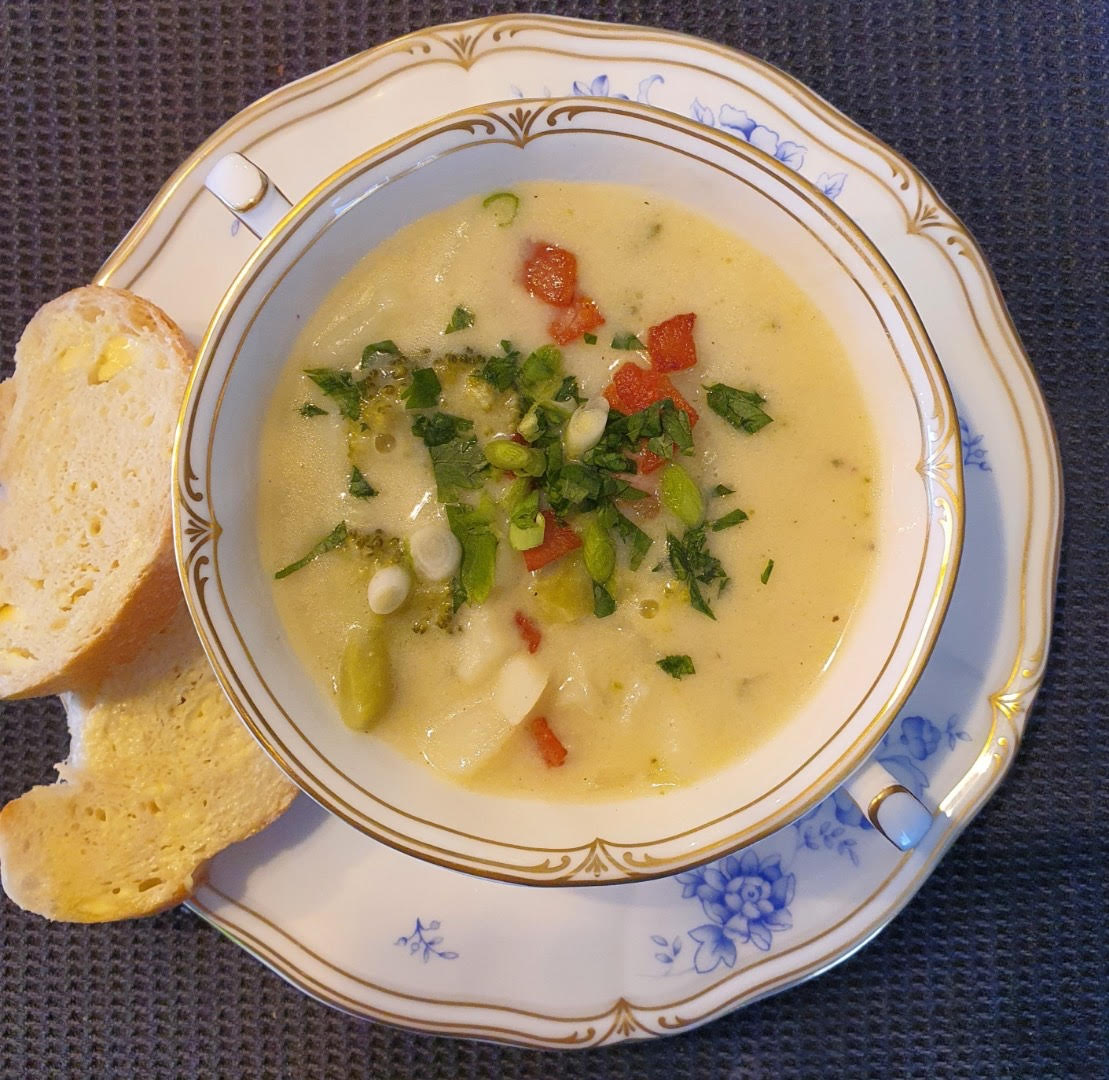 Broccoli & Potato Soup (recipetineats.com.au)
Ingredients
• 40g / 3 tbsp unsalted butter
• 1 small onion , finely chopped
• 2 garlic cloves , minced
• 1/3 cup flour
• 2 cups milk , any fat %
• 2 cups chicken broth/stock , low sodium
• 2 cups water
• 1 tsp salt
• 1/2 tsp black pepper
• 800 g / 1.6 lb potato , peeled and cut into 1.25 / 1/2″ cubes (Note 1)
• 5 cups broccoli, small florets (1 large head, ~300g/10oz, Note 1)
• 1+ cups grated cheese , cheddar or tasty (or other of choice)
GARNISH, OPTIONAL
▢ Cook bacon pieces (highly recommended)
▢ Shallots/scallions , finely sliced
▢ Grated cheese
Instructions
Melt butter in a large pot over medium high heat. Add onion and garlic, cook for 3 minutes or until onion is softened.

Add flour and mix into onion mixture. Cook for 30 seconds.

While stirring, slowly pour the milk in and keep mixing as it turns into a thickish paste that's mostly smooth. Use a whisk to make it smooth if needed.

Add chicken stock, water, salt and pepper. Stir, then add potato.

Bring to simmer then adjust heat so it's simmering gently. Cook for 8 minutes (no lid) or until potato is almost cooked. Stir occasionally so the base doesn't catch.

Add broccoli and stir. Cook for 2 minutes (or until broccoli is cooked to your liking), then take the pot off the stove.

Stir through cheese (I use 1 cup) – broth soup be nicely thickened. Add more salt if needed.

Ladle into bowls and top with garnishes of choice.