Dining with Den – Slow-cooker Chiang Mai Noodle Soup by Marion Grasby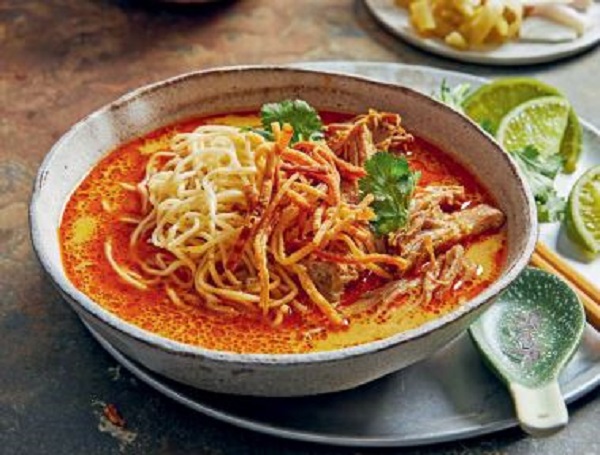 Slow-cooker Chiang Mai Noodle Soup by Marion Grasby
Ingredients 
2 tbsp vegetable oil
3 tbsp Thai red curry paste
1 tsp garam masala
1/2 tsp turmeric
1 kg port shoulder, cut into bite-sized pieces
2 x 400 ml cans coconut milk
1.25 litres chicken stock
4 makrut lime leaves
3 tbsp fish sauce, or to taste
1 tsp sugar
400 g fresh Chinese egg noodles
1/4 cup coriander (cilantro) leaves
Lime wedges, to serve
2 Asian red shallots, cut into small wedges, to serve
Thai chilli paste or sambal oelek, to serve
Chinese pickled mustard greens, to serve
Bean shoots, to serve
CRISPY WONTON NOODLES 
Vegetable oil, for deep frying
16 wonton wappers, sliced into 3mm-wide strips
INSTRUCTIONS 
1 – Heat the vegetable oil in a wok or frying pan over medium heat. Add the curry paste, garam masala and tumeric. Cook, stirring for a minute. Add the pork and stir fry for another 2 minutes or until the pork is starting to colour.
2 – Transport the pork mixture to the bowl of a slow cooker. Stir through coconut milk and stock. Lightly crush the makrut leaves and then add them, too. Cook on high for 3 hours or on low for around 6 hours, or until the pork is fork tender. Taste the soup broth and season with the fish sauce and sugar.
3 – In the meantime, for the crispy wonton noodles, fill a wok or saucepan to about one-third capacity with the vegetable oil and place over high heat. The oil is hot enough for frying at 180 degrees C/350 degrees F, or when a wooden spoon dipped into the oil forms small bubbles. Carefully add a small handful of wonton strips. Cook for about 30 seconds or until golden, then drain on paper towel. Repeat until all the strips are cooked. Set aside until ready to serve.
4 – Cook the egg noodles in boiling water for 2 – 3 minutes or until just tender. Drain and divide among serving bowls. Add chucks of pork to the bowls and ladle over the soup. Top with coriander and crispy wonton noodles. Serve with lime wedges, shallots, chilli paste, pickled mustard greens and bean shoots.
Image: Always Delicious – Tips, Techniques and Recipes that work cook book