Shocking footage: Dozens dead in Russian plane crash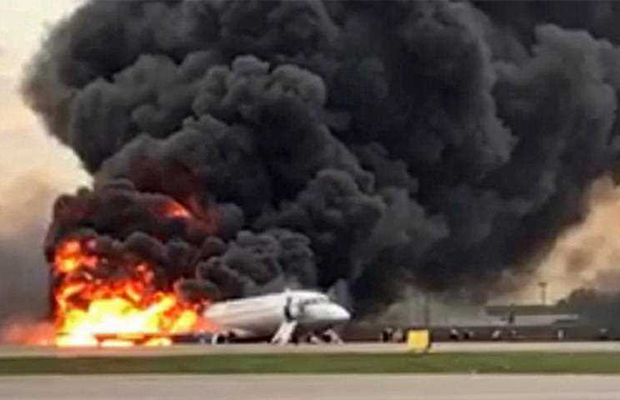 At least 41 people have been killed in Russia in a fiery passenger airplane crash.
The Sukhoi Superjet 100 crashed on the tarmac at Moscow's Sheremetyevo airport.
Survivors on board SU 1492 then escaped via the plane's emergency slides that inflated after the hard landing.
Dramatic new footage has emerged of the crash, which shows the plane apparently bouncing along the tarmac before bursting into flames.
There's another video of the SSJ 100 landing. The aircraft bounces off the runway on its first attempt, and it appears the fire starts after touching down the 2nd time. 10/https://t.co/y4k5IcJjHo pic.twitter.com/iNs7kYK9pr

— Rob Lee (@RALee85) May 5, 2019
Arthur Wolk, a current jet pilot and airplane crash litigation expert from Wolk Law Firm, told 3AW Breakfast he believes that footage is crucial to understanding the cause.
"This airplane has a terrible reputation for reliability," he revealed.
Click PLAY to hear more from Mr Wolk
There's a plane on fire at Moscow's Sheremetyevo Airport. An Aeroflot fight form Moscow to Murmansk declared an emergency and returned to its point of take off. It is a Sukhoi Superjet, built in 2017. Video, credit @JustinGosling pic.twitter.com/UXd17nqnkX

— Bryan MacDonald (@27khv) May 5, 2019