Ela Carte reviews: Oter, Flinders Lane CBD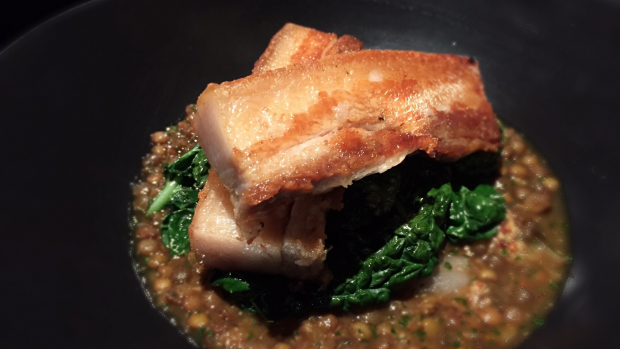 Oter ? 137 Flinders Lane, City ? www.oter.com.au
Gee, Melbourne rocks. Seriously, just when you think we couldn't get any other top class restaurants, another one opens.
Flinders Lane is now bursting at the seams with eating options, but you should make this one your first priority.
Situated where Japanese joint Yu-u once stood, the big wooden bar and yakitori grill remain, but the food is decidedly French now. We're not talking predictable, traditional French ? but more head chef Florent Gerardin's interpretation of modern French.
It just feels good. It's a simple clean room, you can sit around the kitchen, or on a table in the adjoining space. Staff are brilliant ? informed and friendly. And the food is just bloody good.
Plenty of nose-to-tail dining on offer, we probably went for the less adventurous dishes. The menu changes every day ? Gerardin says, really, his suppliers have as much impact on the decisions as he does because he relies on them to give him whatever they have that is impressive.
I love simple touches, order the sardine toast and the fish has come straight from Port Phillip Bay.
La Crepe is an homage to Gerardin's wife ? both are from Brittany. Super crispy, rolled around Kurobuta ham and Cantal cheese ? he experimented with four different cheeses before settling on this gooey, stringy number. Again ? the supplier is key, Prahran Market's Anthony Femia is in charge in this department, and Gerardin also leaves the cheese board up to him.
Perhaps the most surprising dish came about by mistake ? when a bowl of whitebait sat next to the bowl of waffle mix and somehow the two ended up together in the waffle machine. Voila! It worked. And so it made it to the menu, along with some gorgeous cr?me fraiche made form Shulz organic cream ? which Gerardin is better than any cream he's seen here or overseas.
We had a stunning pork belly special for main ? but somehow I was more excited by the gorgeous artichoke with buckwheat and fermented pear.
Don't pass up the tarts of the day ? possibly the best lemon curd tart I've ever had, made by the in-house pastry chef.
It was surprisingly light on the wallet for the food we ate at Oter. I guess the thing that might make you wince will be the wine list ? with glasses of wine starting a $12, but most well upwards of $15.
But I wasn't there for wine, I was there for the food and I'll be back for it before long.
Artichoke with buckwheat and fermented pear. Photo: Supplied
Whitebait waffles. Photo: Supplied
Sardine toast – the fish has come straight from Port Phillip Bay. Photo: Supplied
Tarts of the day, made by the in-house pastry chef. Photo: Supplied
La crepe – super crispy, rolled around Kurobuta ham and Cantal cheese. Photo: Supplied