Ela Carte's Bellarine Peninsula food wrap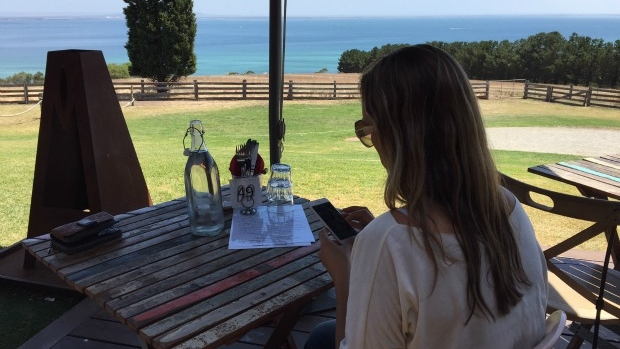 Bellarine Peninsula
Well, we're down at the Bellarine this weekend for A Moveable Feast but there's no way we'll be able to cover all your dining options down there in a single, one hour show.
I took a long time to get round to discovering the Bellarine, but having visited properly for the first time around 5 years ago, I've made myself pretty familiar with it ever since.
I spent a weekend there recently courtesy of Tourism Greater Geelong ? and really tried to run the gamut of dining and tourism offerings. Here's a little rundown of some of the gastronomic treats:

Flying Brick's menu is surprisingly fancy.
Flying Brick Cider House
It's hard to miss Flying Brick Cider House. A stunning piece of architecture, its designed to resemble the bird after which the drink is named ? the Black Cockatoo, or 'flying brick'.
Inside, it's huge. A big bar at which to do your tastings, and plenty of room to eat inside, and out. That said ? on a sunny weekend, it'll still be busy and you might be better off to book.
The menu is surprisingly fancy ? this ain't no burger joint. Loved the char-grilled cuttlefish with roast capsicum, chorizo and white bean salad ? just super tasty. Smoked butter poached Rainbow trout comes with beetroot, apple, and preserved lemon ? that fish is lovely.
It's pretty much all in house when it comes to the drinks. These guys own a couple of wineries so you can try their labels, lots of cider including some seasonal offerings that you will ONLY get on tap at the Cider House ? tapped straight in from the cool room.

Ela adored Harry's haloumi.
Harry's Kiosk
Even though it's quite the institution, I get the feeling that Harry's Kiosk has had its share of incarnations. The current one sees much loved local hospitality couple Simon and Al churning out good caf? fare during the day, but as of recently putting on a dinner menu on Friday and Saturday nights.
The place was pumping on this Friday evening, under a plastic canopy the back courtyard was full of happy, rowdy locals and tourists. Adored our shared haloumi salad starter with zucchini, roasted tomato, olives & lemon yoghurt; and moved on to a generous sized warm duck salad and baked fish with soy butter, ginger, and Asian herbs.
Such great atmosphere, a compact but decent wine and beer list, and genuinely warm & friendly service. A great casual option.

Jack Rabbit's menu should please everyone.
House of Jack Rabbit
I honestly think this boasts one of coastal Victoria's best views. At the end of a dirt road, overlooking Corio Bay and across to the You Yangs is the Jack Rabbit Vineyard.
There are two dining options on offer in two completely separate buildings, the Jack Rabbit Restaurant is your fine dining destination, but for a casual lunch, or weekend breakfast or dinner ? pop through the cellar door and into the House of Jack Rabbit.
The million dollar view is accompanied by a one page menu that should please everyone. I enjoyed the simplicity of the balsamic glazed chicken breast with game with fresh kumato tomatoes, basil, and buffalo mozzarella atop some crispy grilled sourdough. The tasting plate and grazing plate look like good share options. Of course you'll get plenty of Jack Rabbit wines to try, some Flying Brick ciders or a range of beers.
It's worth it for the likes you'll get on Facebook and Instagram photos alone ? what a vista!

Piknik's saganaki was a delight.
Piknik
Probably the best meal we had was in the most unassuming location!
Housed in a converted servo, PIKNIK started out making preserves from forgotten fruits 'picked' and 'nicked' from backyards on the Bellarine Peninsula. After a few years selling their wares at local markets and throughout the state, they opened this caf? and store. David Humphris and his wife took over and continued the tradition of churning out great home made meals to local and tourist alike.
It may seem like you're in the middle of nowhere, but there's a city feel to the food and drinks ? starting with our very sophisticated Aperol Spritz.
I absolutely adored our starter of grilled saganaki cheese with Seville orange marmalade and farro salad. Seriously, what a delight.
The mains were hearty, they somehow managed to deliver slow smoked lamb shoulder with casserecce pasta in a form that was perfectly Spring-like rather than the mid-winter's dish it sounded; pork belly was a cracker too!
Owner David has boundless energy, and an obviously love of what he does. Piknik's a real gem.

Mr Grubb's crab cakes were a highlight.
Mr Grubb Caf? at Oakdene Vineyards
Oakdene has always been a fabulously quirky venue, the new caf? is just another colourful, sprawling addition. It's so great they've managed to build it in amongst existing vegetation ? feels like it's always been there.
Take your time checking out the property's many sculptures and features, there are plenty of tables to choose from at Mr Grubb.
A great option for a casual feed, it boasts a huge menu. I could have happily just dined on a selection of their entrees and nibbles. The Blue Swimmer Crab Fish Cakes from this part of the menu were the highlight of the day ? crunchy crumb, lovely rich crab filling and a coconut chilli mayo.
The Lamb salad came in a large bowl, a lot going on in terms of flavour ? with lamb fillet, lemon, medjool date, feta, coriander, saffron yoghurt and more.
Chicken leek and sweetcorn filo pastry pie was a solid option.
Of course there's a whole stable of Oakdene wines to choose from, loved the Matilda sparkling.
The Rest
Of course this is but a sample of what's on offer down on the Bellarine. You can do cocktails and snacks upstairs on the balcony at Salt Gallery in Queenscliff, you can make your own dinner with tomatoes and veg stocked up from the quaint shop at Lonsdale Tomato Farm. Grab some mussels from the pier at Port Arlington; enjoy a stunning lunch with killer views at Terindah Estate, or dine on the porch at the thoroughly charming Kiltynane Wines.
One trip won't be enough, but you'll need to make a start somewhere ? get down and start working your way through the Bellarine Taste Trail .
Flying Brick Cider House ? 1251-1269 Bellarine Hwy Wallington – www.flyingbrickciderco.com.au
Harry's Kiosk ? 1 Tobin Dve Queenscliff ? www.facebook.com/harrys-kiosk
House of Jack Rabbit ? 85 McAdams Lane, Bellarine ? http://www.jackrabbitvineyard.com.au/
Piknik ? 1195 Queenscliff Rd, Swan Bay ? www.piknik.com.au
Mr Grubb Caf? at Oakdene Vineyards ? 255 Grubb Rd Wallington ? www.oakdene.com.au