Emilia reviews: Farm Vigano — the perfect summer venue
Farm Vigano
10 Bushmans Way, South Morang
Given that Melbourne has finally turned on the weather for us this week I thought I better find a restaurant appropriately matching the vibe. 
Enter, Farm Vigano. If you know it, you'll be vigorously nodding your head to everything I have to say. If you don't – I'm so jealous you get to experience it for the first time.
Based out in South Morang but well worth the drive. You find yourself in an Italian style terrazza with a stunning view overlooking Plenty Gorge, when the sun is hitting right it almost feels like you're a little cove in the way the trees wrap around the restaurant. 16 acres filled with citrus and fruit orchards, tennis court and even a bocce pitch. They often host weddings out on their lawn as well, the perfect European romantic backdrop. They do not miss a detail either, yellow stripes fall over every window with matching gelato carts ready for when it really warms up and spritz' at the ready.
Farm Vigano was the previous home of iconic Melbourne restaurateur Mario Vigano of Mario's in Exhibition Street, its heritage listed and named after him. Most of the groups around us were Christmas parties and families, it's designed for groups.
I naturally had to try the Vigano Limoncello Spritz to begin, it only felt right – spritz in hand, out of the terrazza at dusk, festoon lights starting to light up. This is summer epitomised.
To start with we had Calamari fritti and spicy, garlic prawns which further solidified the summer-by-the-Italian-coast feeling.
My favourite dishes came next…The porcini mushroom, black truffle and cream pasta (normally gnocchi but we got gluten free fettuccine) was to die for. Black truffle was perfectly balanced. I know it can be decisive but even my truffle-hating partner liked it. The lamb, or 'Arrosto' with italian salsa verde was a huge yes, perfectly pink on the inside, crispy bits on the outside. I've started making it a habit at every place I go to to try their potatoes, it's a great yard stick. These were the triple cooked, garlic, rosemary potatoes – pretty good, right on the standard but didn't blow me out of the water.
They have 17 pizza choices, something for everyone and gluten free bases. They generally order them from most popular to least popular – if you're feeling more adventurous try the Bianca Pollo but play it safe with the capricciosa.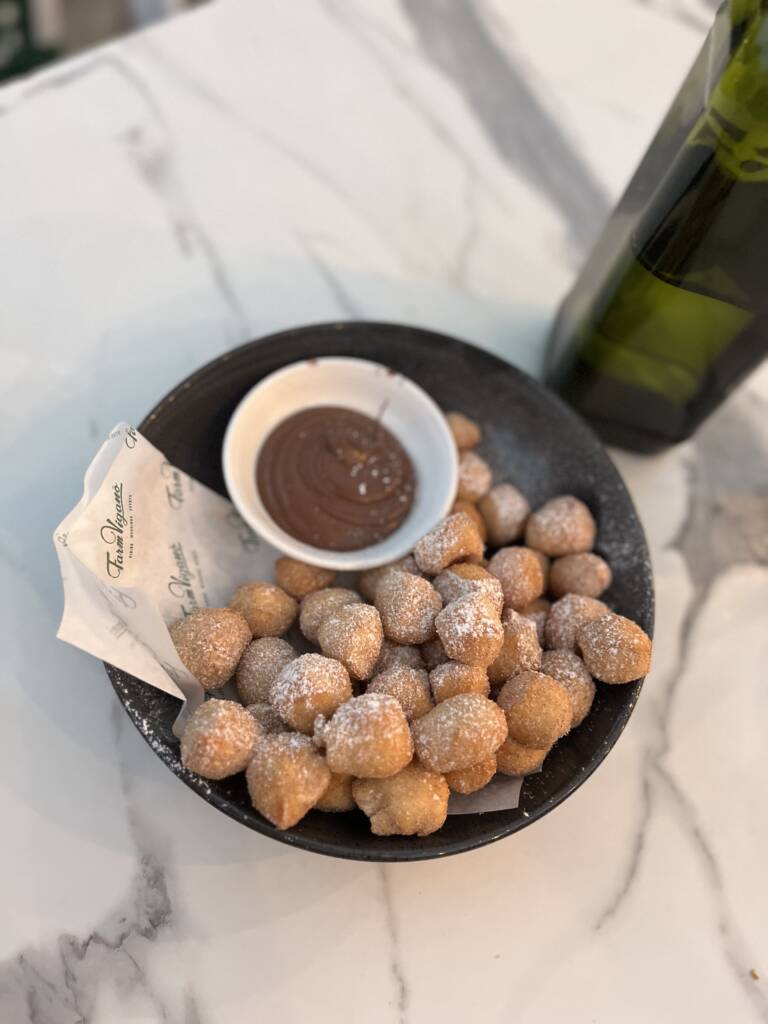 There were two things left on the menu I knew I had to try. Baby cinnamon sugar doughnuts with nutella. I'm a bit obsessed with things that are smaller than they should be, this fits into this category and I'm appropriately obsessed. We took the majority of them home after over indulging in the mains and warmed them up the next day – our mates happily ate them up the next day too. 
Lastly, for Ross I had to try one of their Amaros. I did my best at finding one close to the Ischia island which is where his beloved Rucolino (shameless producer plug for his first episode of Ross Recommends where he recommends rucolino). I tried the Amaro Lucano from Basilcata Italy and introduced amaros for the first time to my partner. It got both of our tick of approvals.
There's kids options, family friendly, vegetarian friendly, gluten free friendly.
Starters are $10-24, pastas are $30-38, pizza $25-30. Definitely pricier but the venue is a whole experience and so worth it. If you need a venue for a wedding, I've also got you sorted here.
Hot tip: Order what you want off the menu rather than the set menu. Their main servings are generous, you might not need as much as you think.