Emma Dean's Boiled Fruit Cake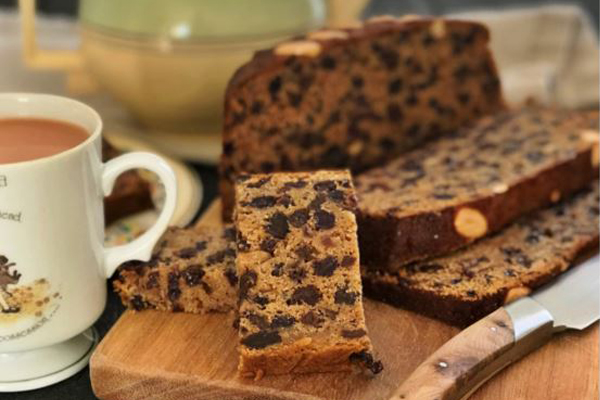 Boiled Fruit Cake
Growing up in a family of active girls, who were galloping around on ponies, trying their hand at athletics and playing tennis, Mum always had a boiled fruit cake on the go.
One of my favourite memories was packing up the old Ford, with the horsefloat loaded up, and off to a horse event some place around Victoria.
Mum would pack a thermos of tea and a boiled fruit cake, as well sandwiches, dry biscuits, cheese and chutney for our lunch.
There was nothing better that sitting in the front seat with mum, defrosting my fingers after a cross country event with a cup of tea and a chunk of boiled fruit cake.
Mum made a few variations of the cake including sometimes throwing in a drained can of pineapple, sometimes sherry, sometimes all, sometimes none.
Below is a recipe that I have adapted from Mum's tried and true boiled fruit cake.
The recipe is pretty easy, but I urge you to use good quality fruit.
I buy mine from the organic bulk store – which works out to be a similar price to the already mixed up stuff from the supermarket.
I also use Pedro Ximenez Sherry which brings a richness of molasses and enhances the raisins.
You can easily double the recipe and give a cake to a neighbour, or wrap up carefully and pop in the freezer for another time!
Ingredients
150g raisins
150g Currants
150g sultanas
50g mixed peel
100g dried cranberries
½ cup Pedro Ximenez Sherry (any sort will do however)
1 cup water
2 tablespoons maple syrup (substitute honey, treacle, molasses, or golden syrup)
125 g butter
1 cup brown sugar
1 teaspoon bicarb soda
1 tablespoon boiling water
2 eggs
1 cup plain flour
1 cup self raising flour
½ teaspoon cinnamon
¼ teaspoon allspice
¼ teaspoon nutmeg
¼ teaspoon cloves
¼ teaspoon ground ginger
1 teaspoon vanilla extract
A handful of blanched almonds to decorate
Optional if adding the pineapple:
1 x 440g can crushed pineapple, drained
additional ¼ to 1/3 cup self raising flour
Method
1. In a saucepan combine the fruit, sherry, and water. Bring to the boil on a medium to high heat, reduce to a simmer and then add in the butter, sugar, and maple syrup and stir until the sugar is dissolved. Remove from the heat.
2. In a cup, combine the bicarb soda and the boiling water stirring quickly and then add into the fruit mixture. Set aside to cool.
3. Pre-heat your oven to 160c fan forced.
4. Grease and line a 20cm cake tin (I like to have a removable base as well).
5. In a separate bowl mix the dry ingredients together lightly with a fork.
6. Lightly beat the eggs and add into the mixture.
7. Add the dry ingredients into the mixture. At this point you can add the pineapple and the extra flour.
8. Pour the cake batter into the prepared tin and decorate how you wish with the blanched almonds. Sometimes I make a picture (pineapples, love hearts etc), or sometimes I just pop the almonds around as a border.
9. Bake for approximately 90 minutes, checking after 75 minutes. If the cake is getting too brown, I turn my oven down, or pop a little foil over the top
10. Cool in tin and enjoy with friends and a strong milky tea (well that's how I like my tea, you have your tea as you like it!). Truly the best!
PS – I also like to drink tea out of my Holly Hobby cup which I have kept since I was a kid. Can you see it in the photo? I love it!