Emma Dean's favourite 'Carrot Cake' recipe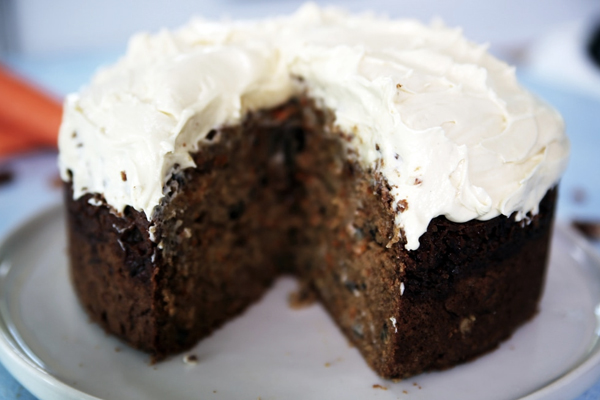 I wish I could say that this recipe is mine, but it is not. It is Angelique Lazarus', from Vaucluse, Sydney, who won the best Carrot Cake prize from the most discerning judges in the GoodFood Australia's Best Carrot Cake Competition. It really is the best carrot cake, so why mess with perfection?! I have made this so many times, and yes – it really IS THE BEST!!!
INGREDIENTS
375 g plain flour
2 tsp baking powder
1 1/2 tsp bicarb soda
2 tsp ground cinnamon
1/2 tsp ground nutmeg
1/2 tsp allspice
2 tsp salt
345 g castor sugar
375 ml vegetable oil
4 eggs
3 medium carrots, grated
220 g tin crushed pineapple, drained
200 g pecans, chopped
GLAZE
2 tbsp vegetable oil
110 g brown sugar
2 tbsp milk
40 g pecans, chopped
ICING
250 g cream cheese, room temperature, cut into cubes
125 g unsalted butter, room temperature, cut into cubes
500 g icing sugar
1 tsp vanilla extract
WHAT TO DO
Preheat the oven to 180C (160C fan). Grease a 23cm round cake tin and line with baking paper.
Sift the dry ingredients together into a bowl. In a separate bowl, beat the eggs and oil, then add to the dry ingredients. Mix well then add the carrots, crushed pineapple and pecans. Mix to form a smooth batter and pour into the cake tin.
Bake for 30 minutes then quickly prepare the glaze by placing all the ingredients for it in a small saucepan and heating over medium heat, stirring, until all the ingredients are combined.
Pull the cake out on the oven rack and carefully pour the glaze over the cake.
Bake for the rest of the baking time, roughly 40 minutes or until a bamboo skewer inserted into the centre of the cake comes out clean. Remove from the oven and allow to cool for 10 minutes in the tin on a wire rack. The glaze will have melted onto the tin, so take a butter knife or metal spatula and run it carefully around the inside of the tin. Upend and allow to cool on the wire rack.
Prepare the frosting by whipping the cream cheese, butter, icing sugar and vanilla essence together in a bowl. Put the cake, bottom side down, on a serving plate and cover the top of the cake with frosting. Allow to set for several hours before serving.