Emma Dean's recipe for Grand Final Footy Pies!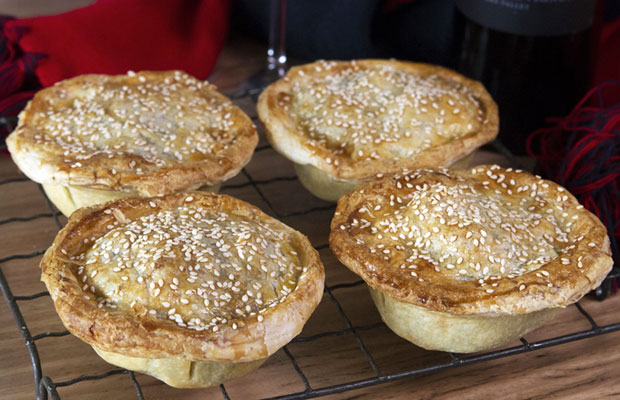 INGREDIENTS
1 tbsp olive oil
1 onion, chopped
1 kg flank steak, cut into 1.5 cm cubes
2 rashers of bacon
1 tsp white pepper
1 tbsp tomato paste
2 cups beef stock
1 cup red wine
1 tbsp Worcestershire sauce
1 tbsp corn flour
¼ cup water
Flaked salt
1 egg, lightly beaten
Sesame seeds
2 sheets Borg's Shortcrust Pastry
2 sheets Borg's Puff Pastry
METHOD
Line your pie tins with the shortcrust pastry, and blind bake as per packet instructions. Cool.
In a fry pan, heat up the olive oil and sauté the onion for a few minute to get a little colour. Add in the bacon, and then add in the beef. Season with the salt and white pepper. Once the beef gets a little brown, add in the Worcestershire sauce, tomato paste, wine, and stock and cook down, covered with a cartouche, for about 40 minutes until the beef is tender.
Once beef is tender, mix the cornflour and water together and then add into the beef mixture. Cook for a further few minutes and then remove from the heat and let cool.
Spoon the mixture into the cooled pie cases. Using the egg wash, brush the edges of the shortcrust and then top with disks of puff pastry, pressing down to seal.
Brush the top of the pies with egg wash and then sprinkle with sesame seeds.
Bake at for 180C for 35-40 minutes until golden and crispy. Enjoy with your favourite tomato sauce and the red wine you cooked with! GO FOOTY!