Emma Dean's roast potato and zucchini frittata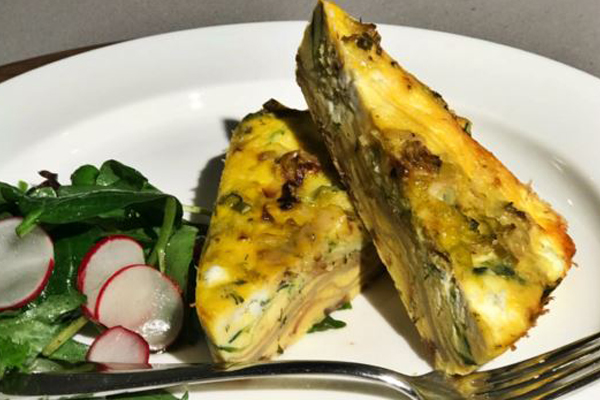 Roast Potato and Zucchini Frittata with Goats Cheese
Ingredients
1 onion, peeled, halved then sliced
dash balsamic vinegar
2 tablespoons olive oil
2 large potatoes potatoes, scrubbed and sliced very thinly
further dash of olive oil
1 medium zucchini, shaved
100g of soft goats cheese (feta also works well here)
2-3 tablespoons chopped fresh dill
6 eggs
100ml cream
To serve
Bunch watercress,
Radish, shaved
Your favourite vinaigrette
Method
In a saucepan, sauté the onions on a low heat for about 30 minutes to caramelize. Make sure you take the time, it is worth it. Towards the end of the caramelisation, add in the vinegar and stir for another few minutes, to take the edge off the vinegar.
Whilst you are caramelizing the onions, lay the sliced potatoes on an oven tray and drizzle with olive oil and season with salt and freshly ground pepper. Roast in a 180C oven until nice and crispy. Remove the potatoes but leave the oven on.
Using your favourite seasoned fry pan (mine is about 25cm – maybe 30cm), drizzle some additional olive oil and a knob of butter and melt gently over a medium heat.
Lay the potato roughly into the fry pan, then sprinkle over the shaved zucchini, making it nice and loopy.
Crumble over the goats cheese and sprinkle the dill. Season a bit more here if you think it needs it.
Lastly, whisk the eggs and cream together and then gently pour over the vegie layers.
Cook over the medium heat until the egg sides start to pull away, then pop into the oven to finish off. The frittata is done when the middle is just set. I like to poke the middle with a knife to see if there is any runny egg mixture. If it appears set then I remove immediately. Frittata don't like to be over cooked.
Remove from the oven and allow to cool for a few minutes (the frittata will also finish cooking and set at this stage).
Toss together the watercress and radish and drizzle with your vinaigrette. I like the pepper
Slice wedges of the frittata out of the pan and serve with the watercress salad.
One of my favourite summer go to dishes!