Farmer's unique sheep art amidst the drought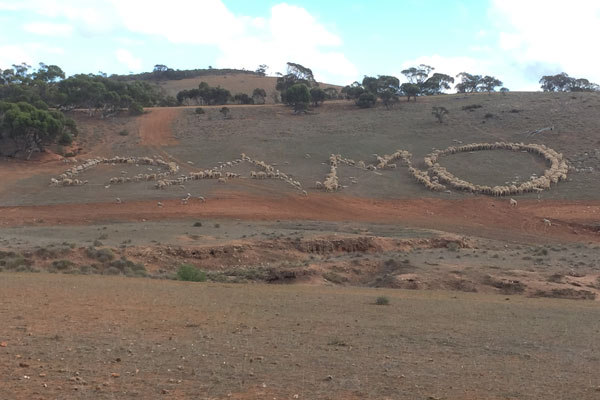 A farmer in South Australia has come up with a novel way to pray for rain, by spelling out giant letters in paddocks with his sheep.
Damien Elson's unique sheep art on his farm in Cleve involved wrangling hundreds of sheep into position to spell out 'Damo', 'Cass' for his wife Cassandra, and 'rain' among other words.
He spoke to Tony Jones on 3AW Mornings about how he's able to do it.
"As I draw the picture, I draw the letters on the ground with the trailer and the barley, and the sheep just come racing towards it and they all stand around," he said.
"It's a lot more simple than what you think."
After posting some of his pictures on Facebook, Damien says he's been overwhelmed by the response.
"One thing lead to another and more words came out," he said.
Tony Jones: "You've still got your struggles there with the drought, if this can lighten the mood a little bit, it's mission accomplished."
Click PLAY to hear more