Footy brawl: Fists fly, teen arrested in the MCG stands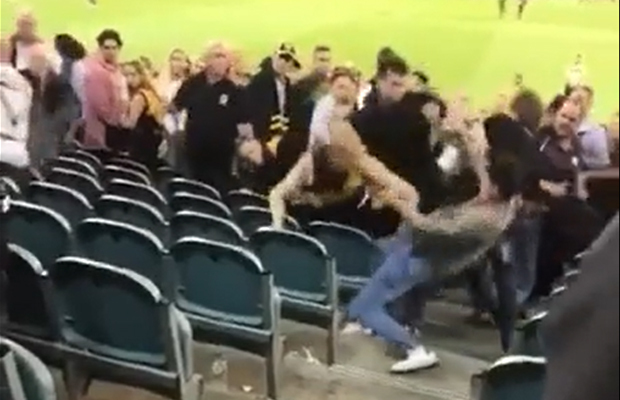 The MCG will soon have facial recognition technology to prevent violent offenders from coming to games.
It comes after the 2019 footy season started with one of the AFL's big issues of last season: Footy crowd violence.
A teenager was arrested after a vicious brawl broke out at the at the end of last night's AFL season opener between Richmond and Carlton at the MCG.
Parents rushed to get their children out of the area when the fight broke out in the stands after the siren.
The AFL says it will consider banning those involved from attending games.
As for how that can be implemented, Gerard Griffin, general manager of events at the MCC, said it wouldn't be long until they had facial recognition technology to prevent previous troublemakers from entering the ground.
"We're in the middle of that," he told 3AW Football.
Click PLAY below to hear more on 3AW
Click PLAY below to see vision of the brawl
One of the men involved, from Eltham, has been fined $322 for riotous behaviour.
The victims have told police they do not wish to take the matter further.