'Frankston streaker' tells Tony Jones his nudie run was all just a bit of fun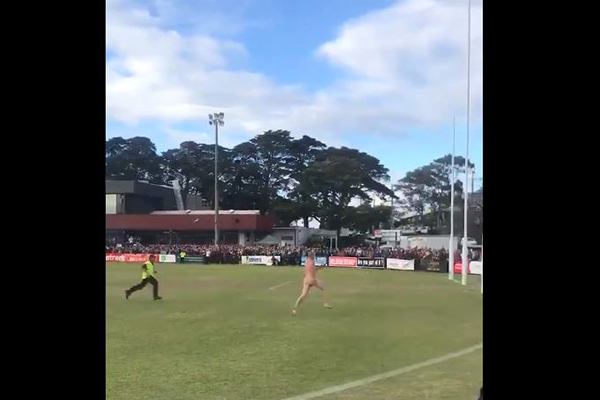 Photo: Twitter, @vanhaighendorf
A tradie who stripped down and streaked during a local football grand final says the cheers from the crowd spurred him on, and he's even set up a crowdfunding page to pay the $900 fine.
Lucas Garth or "Brooksy" copped the fine after security caught up with him during his cheeky streak at the Mornington Peninsula Nepean football grand final.
A friend came up with the idea to set up a Go Fund Me page to raise money to cover the fine, although Garth is the first to acknowledge there's more worthy causes.
"Mate to be honest, it's taken off. It wasn't even my idea!" he told Tony Jones.
"If you had a giggle on the day, then chuck in a few bucks. There's a million other Go Fund Me's which are much more deserving."
Tony suggested he could donate the money to charity. So far, more than $600 has been raised.
Garth said it "wasn't his first rodeo" but it's the first time he's shed his clothes and streaked in front of that many people.
"I just gave a cheeky wink to one of the boys, and off I popped," he said.
"The sound of the crowd, the cheers and the laughter… I'd never heard anything like it.
"Everyone takes things too seriously these days. My way of dealing with that is just to get nude and run around for a while."
But he assured Tony he wasn't planning on making it a regular occurrence, although it was "very, very funny".
"I asked my girlfriend to marry me on Sunday," he said.
"And she said 'You're crazy' and I thought that's quite funny, you're the one who's going to marry the Frankston streaker. She's a champion!"
Click PLAY to hear the full story
WARNING: Nude video below…
Got that too 😉 pic.twitter.com/pVdBU0hLG1

— magoo (@vanhaighendorf) September 16, 2018