"Stand up, be heard, you're not alone": Trinity Grammar sex abuse survivor's powerful message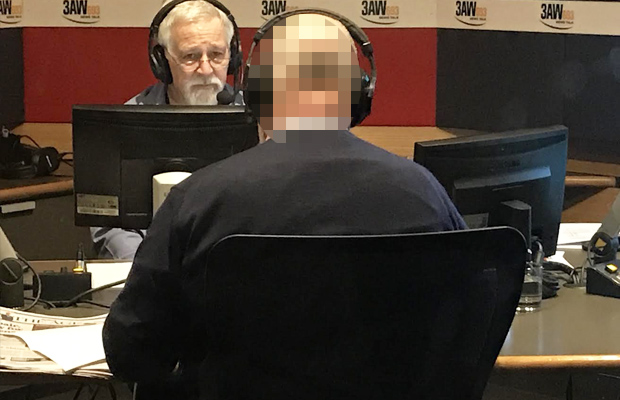 A Trinity Grammar sexual assault survivor has told how the school covered up the actions of his abuser, even calling him a "hero" who "always acted in the best interests of the boys" before eventually paying $500,000 in compensation.
John* was sexually assaulted by teacher Christopher Howell twice when he was a 15-year-old boarder at Trinity in 1973.
Now in his 50s, John told his story to Neil Mitchell this morning.
"The headmaster said it was an outrageous claim and I had a vivid imagination, I needed discipline and my parents needed to consider whether I stayed at the school," John said.
"He said Chris Howell was an honourable man."
"My father, who was not a particularly physically emotional man, held me so tight, he said, 'Son, we love you, we believe you and we'll make this right'.
Howell took his own life three days before he was due to face court on an indecent assault charge in 2016.
The day of his scheduled court date, Trinity Grammar paid tribute to Howell in a letter, labeling him a "hero", "the best educator we have known" and stated "he always worked in the best interests" of the students.
"When I read that I was physically sick, it brought it all back," John said.
"They knew, and they praised him and lied to every student, parent and teacher, past and present."
Click PLAY below to listen
Trinity Grammar made headlines earlier this year when deputy principal Rohan Brown was stood down and after community uproar, was subsequently reinstated for giving a student a haircut.
"Here's a man who apparently is all about the institution and the boys, and what is the reaction of the school community? Fury. Over a haircut," he said.
John eventually received an apology from the school last month.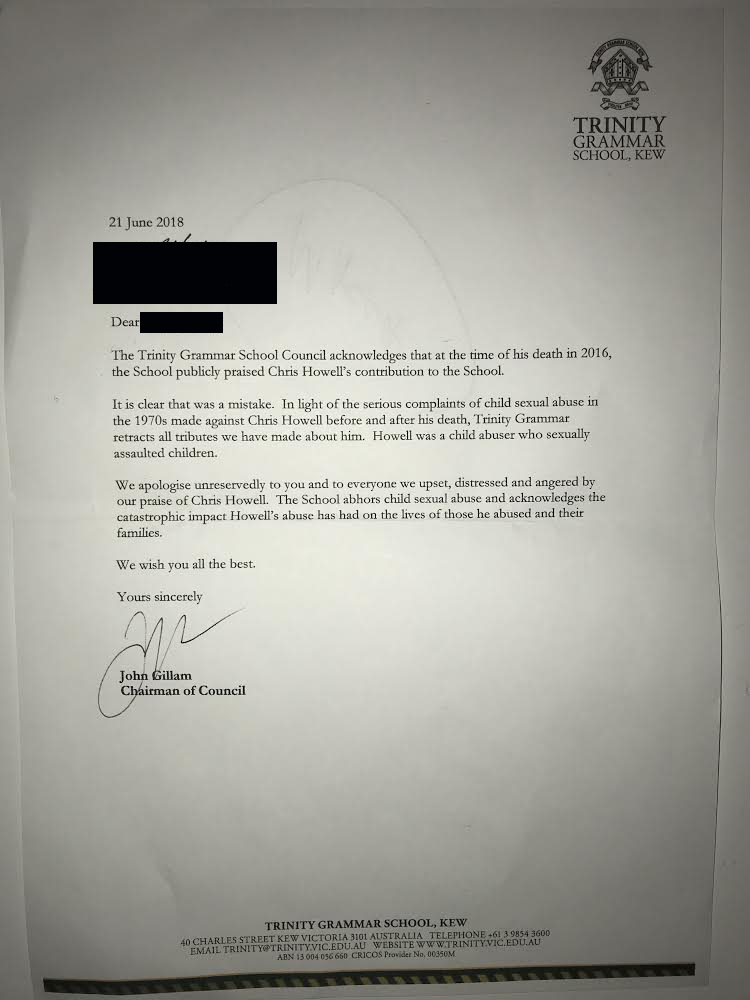 John's lawyer, Michael Magazanik told Neil the $500,000 sum is not the only large payout Trinity has made to his clients.
"We have represented eight Trinity survivors," Michael said.
"The problem at Trinity wasn't confined to Howell, it certainly had a big problem and ignored the warning signs.
"That's not the only very large sum Trinity has paid, to clients of ours."
Neil said John's story is a lesson to any school or church or any organisation that deals with kids.
"The kids come first, not your school, not your teachers, not your reputation," he said.
"Kids come first, always."
John, a long time friend of Neil's, left with a powerful message.
"Neil, I want to thank you, you stood by me, you believed me.
"These institutions want us to be silent.
"My message is stand up, be heard, you're not alone.
"I will stand with you.
"Don't be a victim, be a survivor."
*not his real name