GONE: Gough's first home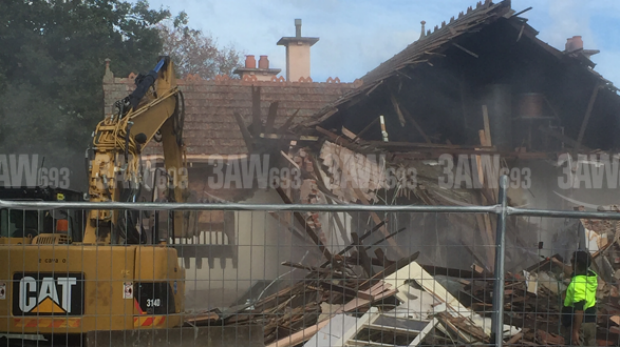 Gough Whitlam's former Kew home has been bulldozed to the ground.
Though there has been a long running dispute as to whether the property would be saved, Booroondara Council fought to save the home.
Listener Janette, who lives across the street from the Rowland Street property, told Denis she was amazed at what she was seeing, particularly during an election campaign.
The home, called Ngara, is over a 100 years old and was the only Victorian home the ALP leader ever lived in.
Nothing but rubble left of Gough Whitlam's 1st home. He lived here in for the first 18 months of his life @3AW693 pic.twitter.com/pkWjZK6eoS

? Ashleigh Brown (@AshBrown_) May 13, 2016
Such a crying shame. Gough Whitlam's birthplace Ngara in Kew destroyed. Bastards. pic.twitter.com/ReO7qSZo3j

? Dee Dee Dunleavy (@DeeDeeDunleavy) May 13, 2016
The home was developed in 1915 by Mr Whitlam's grandfather and Mr Whitlam resided there for the first eighteen months of his life.
It's understood the home is owned by a Chinese businessman who paid $3.3 million for it in 2013.
According to Domain, a new mansion will be developed on the 1155m square block.
Click play to hear caller Janette speak with Denis