Have you seen this drone? Mornington Peninsula woman receives adorable note from young neighbour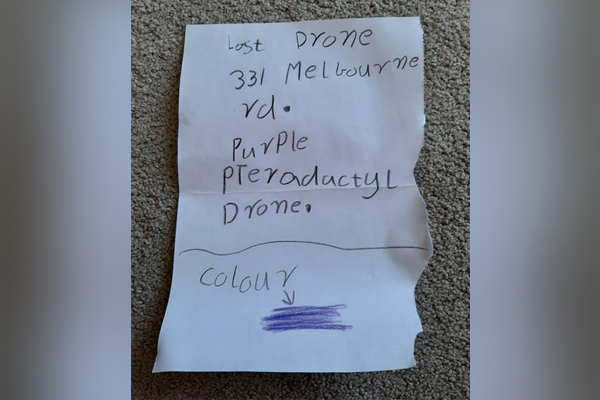 A Mornington Peninsula woman found an adorable note in her letterbox yesterday, and couldn't resist trying to help the young writer of the note out.
"I found this cute little note from my neighbours," Blairgowrie woman Lynne Cambell told 3AW's Darren James.
"It was just gorgeous."
Eight-year-old Cassidy wrote the note Lynne received, along with four others.
She said she got distracted while flying her drone, which was a Christmas gift.
"I wasn't watching where I was flying it and it got lost," she said.
But Cassidy's mother Maxine says things unfolded differently.
"What she didn't tell you is she was having an argument with her sister and they got into a fight and that's how she lost it!"
The note reads:
Lost Drone. 

331 Melbourne Rd. 

Purple pterodactyl drone.
The drone is purple and looks like a dinosaur.
If you've spotted the drone in the Blairgowrie area, near Melbourne Road and Royadie Road, call 96 900 693 or email afternoons@3aw.com.au.
Press PLAY below for more.