Cartoonist Mark Knight internationally slammed as "racist" for Serena Williams sketch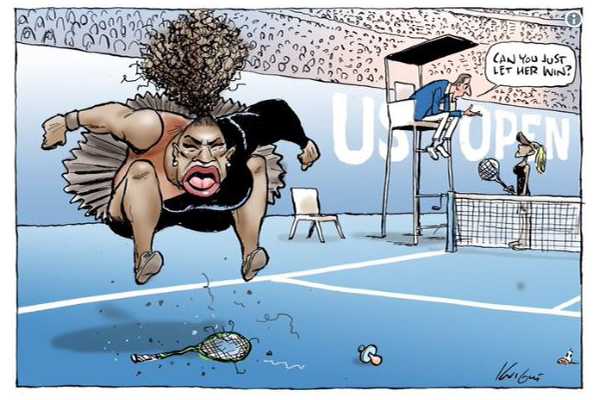 Herald Sun cartoonist Mark Knight has been slammed online for his depiction of Serena Williams at the US Open final.
The cartoon, published yesterday, has been widely criticised as "racist" and "vile" by The Washington Post, Harry Potter author J.K. Rowling, rapper Nicki Minaj and Australian comedian Eddie Perfect, amongst others.
"They are wrong," Neil Mitchell said.
"I will say when I looked at the cartoon, it didn't even cross my mind it was meant to be racially offensive.
"It was a sports bully, throwing a tantrum."
Mark Knight told Neil he never expected this to happen.
"The world's gone crazy," he said.
"It's a cartoon about poor behaviour.
"It's nothing to do with race.
"I drew this cartoon on Monday night, I saw the world's greatest tennis player spit the dummy.
"She's great to draw, she's a powerful figure, she's strongly built.
"I'm sorry it's been taken by social media and distorted so much.
"I've tried to reply to these people but they don't listen."
Click PLAY below to hear the full interview
My toon in today's @theheraldsun on #SerenaWilliams @usopen pic.twitter.com/didwtQg1R5

— Mark Knight (@Knightcartoons) September 10, 2018
Well done on reducing one of the greatest sportswomen alive to racist and sexist tropes and turning a second great sportswoman into a faceless prop. https://t.co/YOxVMuTXEC

— J.K. Rowling (@jk_rowling) September 10, 2018
To all my non-Australian friends and followers; we all think Mark Knight is a racist asshole too.

— Eddie Perfect (@Eddieperfect) September 10, 2018
An Australian artist's racist Serena Williams cartoon receives swift and international blowback https://t.co/6KeQCFOwRw

— Washington Post (@washingtonpost) September 10, 2018