Bed strain: Hospital corridor stacked with trolleys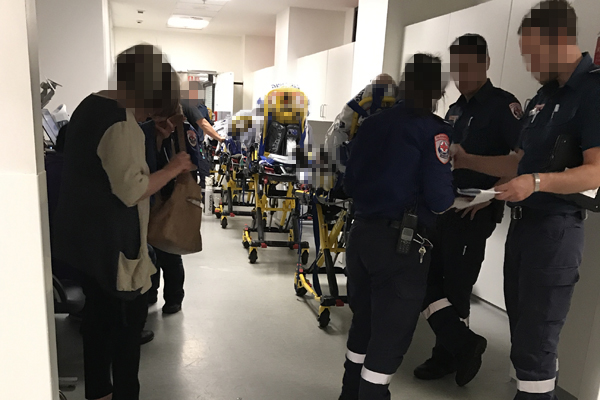 The Royal Melbourne Hospital says hallways stacked with beds has been an uncommon but not unique sight in recent months.
Neil Mitchell today published exclusive footage from inside the hospital from Sunday, showing trolley beds lining the corridors with at least five paramedics watching on.
A witness told Neil Mitchell there were up to 10 trolleys.
Her father spent up to 16 hours in the emergency ward before finding a bed.
"There were ambulances coming from everywhere," she said.
Click PLAY to hear Elizabeth's story
Neil Mitchell: "We have been told everything's fixed: Well, it's not."
In response, Professor George Braitberg, director of emergency medicine at the Royal Melbourne Hospital, said it was particularly busy day.
"I think we've been under the pump since the flu season started," he said.
"Outside of the flu season, we hardly ever see it.
"This hasn't been a very frequent occasion, but it has touched us a couple of times this flu season.
"We did have some nursing staff who called in sick (yesterday) and we couldn't replace."
Professor Braitberg said that while he didn't have the specific details of Elizabeth's father's case, 16 hours in emergency was not unusual stint in emergency.
"If it is flu-related … then we need to wait for an isolation bed," he said.
"We don't want to cohort people who might be contagious with those who aren't."
Click PLAY to hear more from Professor George Braitberg