"It wasn't unsafe in any way": Metro defends its handling of footy crowds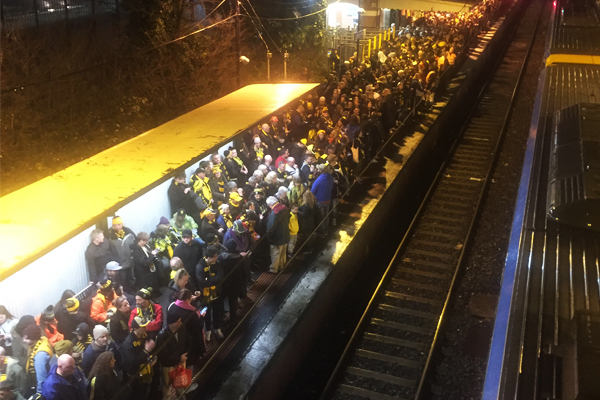 Thousands of footy fans were left frustrated with the public transport getting away from the MCG last night.
Neil Mitchell received an email from a listener with the above photo, saying "What happened last night at Jolimont Railway Station? No trains. Extremely dangerous having so many people on the station platform."
Director of Operations at Metro trains Ron Bria apologised for the delays but disputed the claims it was unsafe on platforms.
"It wasn't unsafe in any way," Mr Bria said.
"The team did a fantastic job managing the crowds.
"Thursday night footy is quite a challenging situation for us.
"We had a couple of events around the network which caused a few delays.
"Average wait times at Richmond was around 10-15 minutes at the busiest wait times."
Click PLAY below to hear the details
Mr Bria said there was "two significant events" which caused extra delays, car across the tracks and a medical emergency, but that 18 extra services were put on.
He couldn't tell Neil how many extra services were planned for tonight.