Izabella Staskowski reviews: A place to take your LOVER… (or your favourite mate)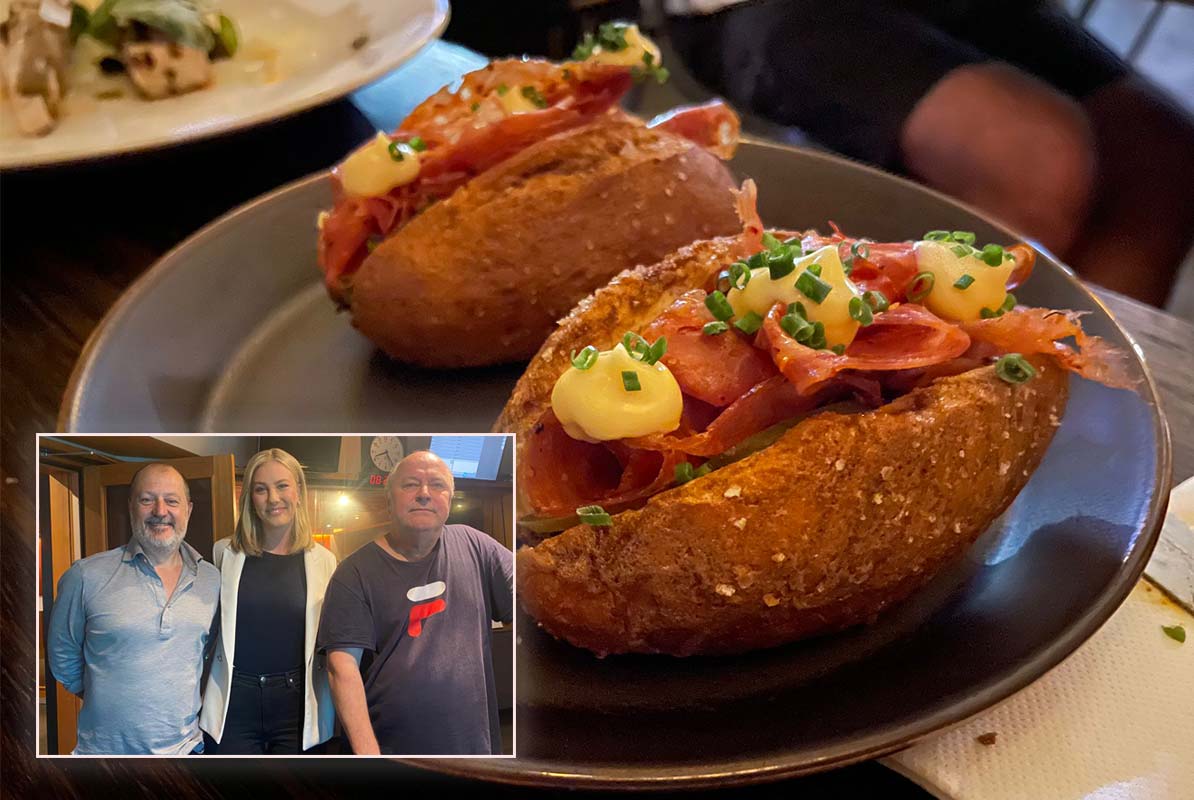 Melbourne is finally OPEN and summer is here. With another hellish year drawing to a close, it's time to take your new flame (or best mate) out on a date.
So, where do you go?
Lover is a fun little restaurant on the Windsor end of Chapel street.
Inside, it's moody and cool… there are bottles in the windows and lights dripping down from the ceiling. On the outside it's intriguing – the restaurant's name springs out at you on it's quirky metal doors.
The menu is playful and changes everyday at 4pm. It's now presented digitally through a QR code on the water brought to your table. It's a sustainable option and likely to become more popular at other venues, too.
Head chef Paul Turner works closely with head cocktail bartender Miriam Wahlhütter, and together they've created some good pairings. You'd describe it as modern Australian, "casual fine dining". So think of all the cool foodie trends, but pared back with a relaxed feel.
Everything is designed to share so your focus is really at the centre of your table throughout the dining experience… Bye phone, hello conversation…
I dined in with my friend Bronte on a hot Tuesday night, so we started with a cocktail each.
Fresh and filled with flavour, I sampled the "Charlie's Return", while Bronte tried the "Florida Project", which I think was the winner!
It reminded us both of a tart creamy cherry soda…
We decided to go for the 'feed me' option on the menu – which means the restaurant chooses an array of dishes for you. This was $40 per head which is really reasonable for Melbourne – many other restaurants will ask for $60 to $80 and that's not including alcohol.
There was a range of share plates to start off…
Spanner crab rolls with zesty finger lime and perfectly toasted brioche, swordfish belly skewers, and a take on a pretzel dish with some spicy cured meats.
The hero dish, however, was the gnocchi… pan fried, melt-in-your-mouth stuff with a pumpkin theme that night.
There is almost always a gnocchi dish (or four) on the menu and it's a great option, presented beautifully and good to pick at while enjoying a red or two…
That red or two is where you will spend your money, though. Some cocktails could set you back $24 while many of the wines on the list are around $70 a bottle. It certainly balances the food, price wise, but you should definitely get a cocktail… they're genuinely creative and unique, and the staff will help you pick something to suit your palate.
Overall, the restaurant is still relatively new and in some ways finding it's feet, but it's almost a guaranteed fun night out.
During the week it's a little quieter, however on weekends it can pack out… while a walk along Chapel street before or after dinner is a good idea… you can grab an ice-cream, check out a nearby bar, or just people watch.
As for the future, owner Steve Pethybridge has some cool plans for Lover in the coming weeks – watch this space for "DJ dining" – bringing in funky, jazzy tunes to add to that moody atmosphere.
And lastly… the name… why is it called Lover?
Well, Steve says it's simple.. the world needs a little more love in it, and you can't argue with that.