Jacqui Felgate reviews: Melbourne's sexiest restaurant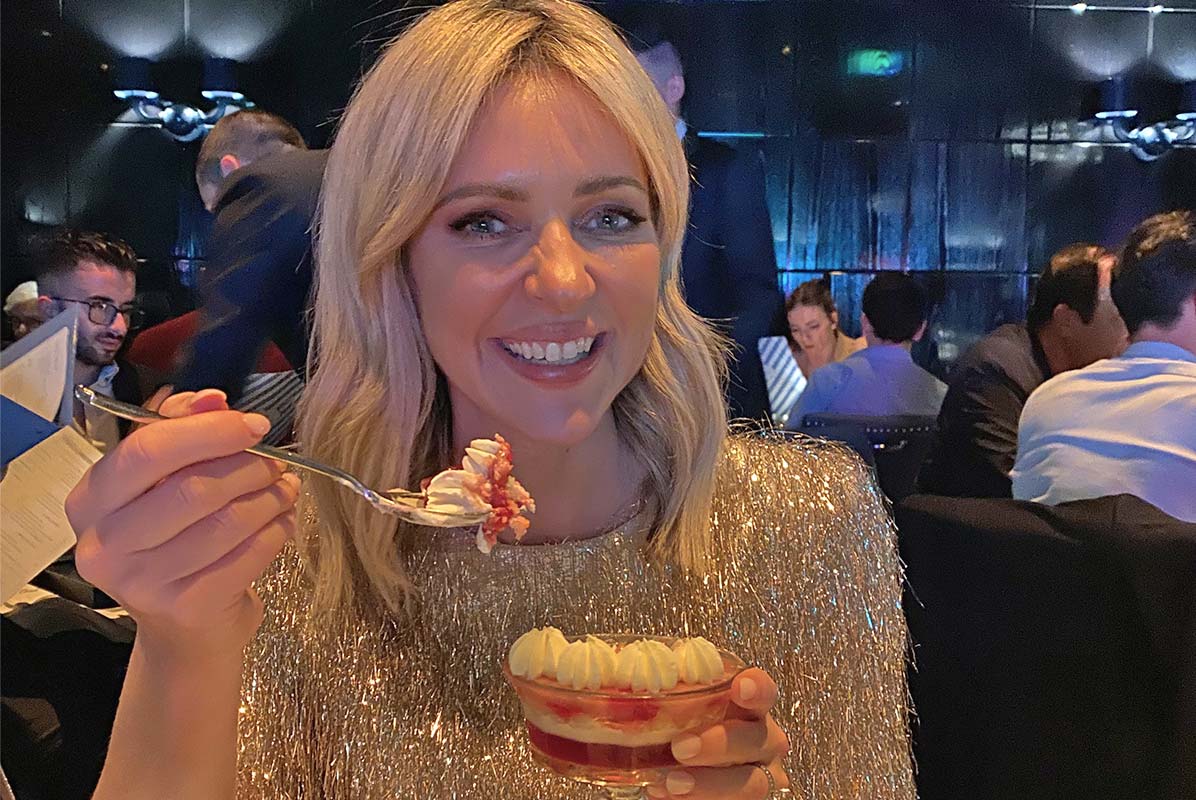 Is Grill Americano Melbourne's sexiest restaurant?
In a word… Yes.
From the moment you step into the long, moody space you're taken to another era. That era? Before COVID.
It's dark, decadent and delicious. The long cavernous space on Flinders Lane is trimmed in navy and marble. A stunning bar overlooks the open kitchen – and the grill. You settle into thick comfy seating as Sinatra plays in the background. The dim lighting, waiters clad in white coats, the perfect styling from start to finish. It's Manhattan in Melbourne and we are more than ready for it.
Grill Americano is the latest addition to the Chris Lucas stable, joining Chin Chin, Society, Kisume and Yakimono. The attention to detail here is noteworthy. An Americano cocktail comes with a long cylinder of ice – stamped with mandarin skin at the top and a little chocolate-dipped mandarin segment. Once you settle in there's a 2000-bottle cellar to choose from.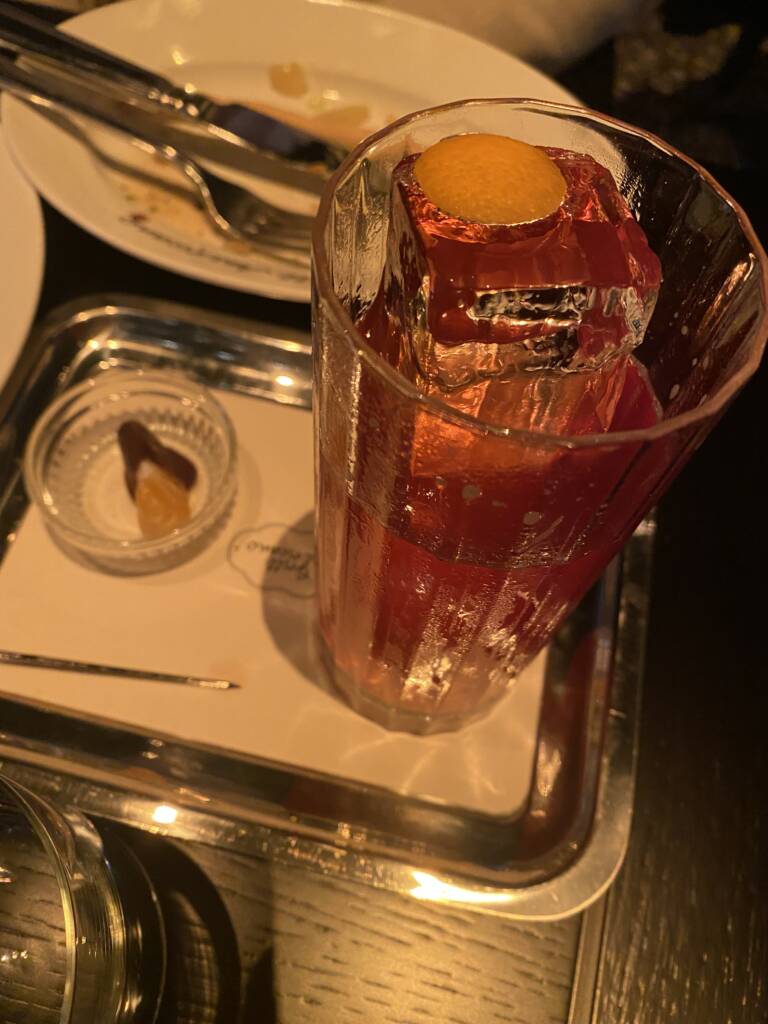 The bread basket ($12.50) is more than generous, served alongside a delectable knob of olive butter. The warm potato focaccia is ideal for dipping in the burrata, grilled leeks and salsa verde ($33.50). Come back for the octopus carpaccio ($27.50) — tart, smokey and with a hint of chilli – it's as Instagram-worthy as it is delicious.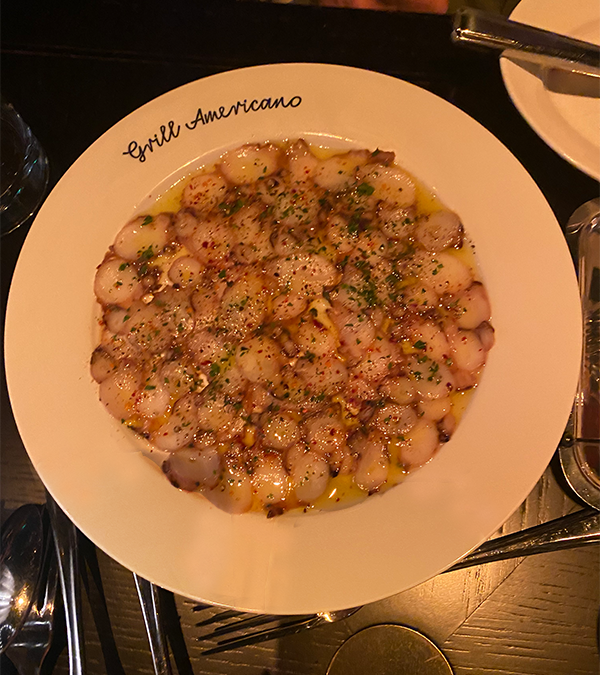 Mains include five pasta options, grilled King George Whiting and a crumbed John Dory fillet. The silky saffron tagliolini with scampi ($44.50) is the perfect balance of richness and the sweet scampi a standout.
Grill Americano is by no means a cheap night out. The 1.2kg T bone is $165 and the 650g rib eye on the bone comes in at $125. The eye fillet is $65 but the table next to us shared theirs with sides. The cool iceberg wedge salad with pecorino is the perfect foil.
Save room for dessert. The Venetian trifle brings back the very best childhood memories. The tiramisu is served at the table from a huge glass dish — it's a showstopper!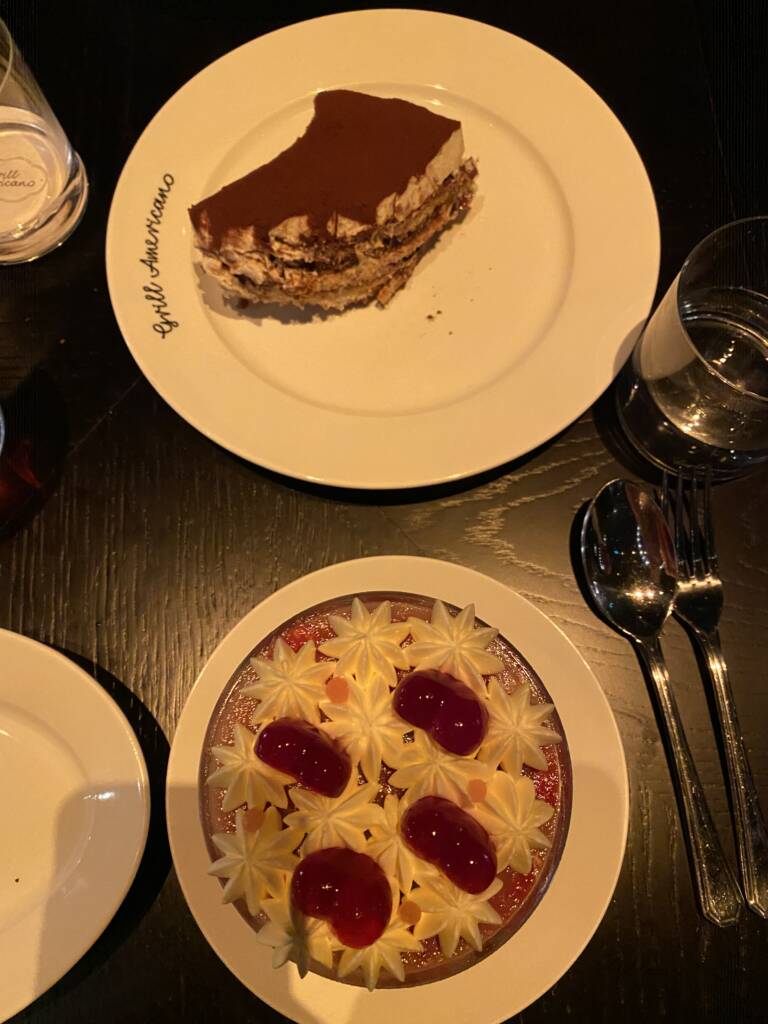 At the bottom of that 80s tower of power, 101 Collins, Grill Americano is bringing sexy back. Even if it's just for a night.
Pro tip: walk-ins are accepted at the bar. Children are not. No high chairs. No kids allowed.
Grill Americano
112 Flinders Lane, Melbourne
Phone: 8616 8010
grillamericano.com