Jim Schembri's movie cheat sheet – December 4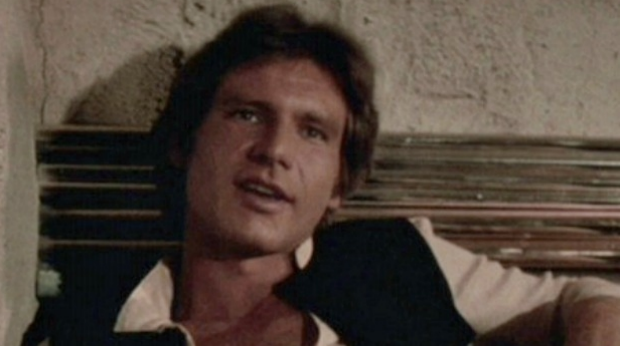 IT'S OFFICIAL: GREEDO SHOT FIRST
As great as the 1997 reissue of the original Star Wars was – with remastered visual effects and extra scenes – the one moment that got up everybody's snout was how creator George Lucas changed the now-famous pub scene where space pirate Han Solo (Harrison Ford) faces down bounty hunter Greedo. In the original Han fired first, but in the reissue Lucas had Greedo fire first to make Han look less nasty. And, many argue, less like Han Solo.
It's been a huge debating point ever since – was the change a good idea or did it go against the nature of Han's character? – and Lucas recently defended the change while speaking to the Washington Post.
'Han Solo was going to marry Leia, and you look back and say, 'Should he be a cold-blooded killer?' Because I was thinking mythologically ? should he be a cowboy, should he be John Wayne? And I said, 'Yeah, he should be John Wayne'. And when you're John Wayne…you let them have the first shot.'
The rationale still bristles, though. After all, Darth Vader killed millions yet was permitted redemption, so how big a deal is Han Solo killing one reptilian bounty hunter? And it wasn't in cold blood, it was in pre-emptive self-defence. It doesn't stack up, does it? It's just another example of how inconsistent George Lucas often is in his storytelling.
'WOLF' BROKER TO SUE SCORSESE
A stockbroker's claim that a composite character in Martin Scorsese's The Wolf of Wall Street defamed him has received an important nod from a federal judge who supported the 'libel by fiction' claim. Andrew Greene claims the hairpiece-wielding character Nicky 'Rugrat' Koskoff was identifiable enough for him to launch a $50 million lawsuit, according to The New York Daily News. We'll keep watch on how this tracks.
CHINESE FILMGOERS LOVE 'THE MARTIAN'
It seems the smart thing for big films to do these days is include market-baiting content for the Chinese masses to respond to. Iron Man 3 did it, with massive results. Now, those awkward scenes in Ridley Scott's sci-fi smash The Martian, where the Chinese suddenly pop up to help the Americans save their stranded astronaut, seem to have paid off. The film took a lovely $50m in it's opening week. China is on track to overtake the US as the world's biggest film market by 2020 – possibly sooner – so expect more of this sort of thing.
PIXAR BRACES FOR 'FLOP'
Though the gleam of Pixar's 'hit factory' reputation has lost a little lustre after mediocre offerings such as Cars 2 and Monster's University, the studio has never quite braced itself for an all-out misfire, which is how their latest offering The Good Dinosaur is shaping up. Its opening weekend take of $US39.2m was hugely disappointing, and among the lowest in its history. Might it be that the Pixar-honoured cliches about 'finding yourself' and surviving adversity through love have worn thin with the masses?
ANIMATION HOLDS UP AGAINST TITANS
Hotel Transylvania 2 (#3) again proved the strength of the animation audience with an opening week take of $2.6m on 414 screens, though Hunger Games 4 ($6.9m on 528 for a two-week total of $19.5m) and Spectre ($4.6m on 582 for a three-week total of $27m) held on to #1 and #2 respectively. Creed (#4) – aka Rocky VII – did nicely with $2.3m on 189. The comedy Love the Coopers (#6) did fine with $577,692 on 164, By the Sea (#9) did OK in limited release, taking $193,882 across 52, while the Lance Armstrong drama The Program (#14) took a so-so $86,761 on 26.
Bowing out of the Top 20 after a hugely successful 11-week run, the winning Aussie family film Oddball (#20) took another $31,674 on 86 for an exact total of $10,895,222. Watch this thing go nuts once it hits the home market.