Jim Schembri's movie cheat sheet – September 23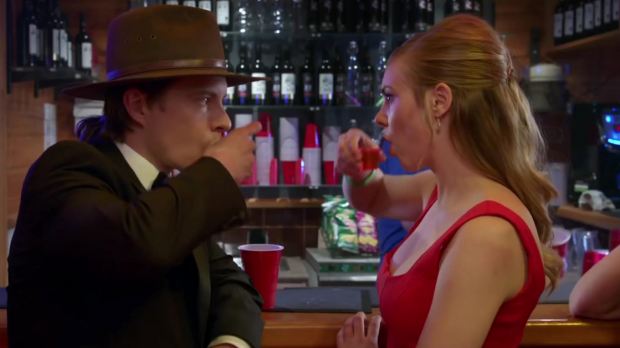 JIM'S MOVIE CHEAT SHEET – 23 September
'SPIN OUT' DRAWS BLANK AT AUSSIE BOX OFFICE
Despite a swag of publicity and the marketing heft of Sony, the Aussie ocker comedy Spin Out has failed to draw big crowds at the multiplexes in its opening week. The romantic comedy took a tepid $375,029 on 184 screen, its screen average across the week of $2038 indicating thin crowds and poor word of mouth. It placed at #11 on the box office chart.
Bridget Jones's Baby (#2) was more warmly received, taking $5.45m on 483. Pete's Dragon (#4) took a healthy $1.8m on 414, the Beatles documentary Eight Days a Week (#5) did huge business, taking $1.2m on 167, while horror show Blair Witch (#6) scared up solid numbers with a $1.01m take on 183 screens.
The Secret Life of Pets remained at #1, taking another $6.1m on 509 for a dazzling two-week total of $14.47m, its audience average actually climbing 6%, which is counter-trend; Sully (#3) took another $3m on 304 for a two-week tally of $7.3m.
Given that Spin Out was intended primarily for a female audience, it's likely that two other films with female-driven audiences, Bridget and Blair Witch, siphoned off some of its potential audience. Lukewarm reviews couldn't have helped.
LETO TO DELIVER ANOTHER WARHOL
Exciting casting news: Oscar-winner and Jesus Christ look-a-like Jared Leto is set to join the long list of actors to have played 1960s pop-art maestro Andy Warhol. Guy Pearce (Factory Girl), David Bowie (Basquiat), Crispin Glover (The Doors) and Jared Harris (I Shot Andy Warhol) have all worn the wig. Leto will also produce. The screenplay shall come courtesy of Terrence Winter (The Wolf of Wall Street).
KREMLIN ENDORSES STONE'S 'SNOWDEN'
In a move that can only endear Oliver Stone to America's Red State filmgoers (ha-ha-ha), the Kremlin has thrown its weight behind his new film Snowden, a biopic about the National Security Agency snitch who dumped several zillion confidential files into the laps of some lucky journalists. Praise for the film comes courtesy of Dmitry Peskov, who has been Vladimir Putin's media mouthpiece since 2012. Peskov thought the script was 'brilliant', adding that the 'top quality' film is 'nearly a documentary…This is an excellent opportunity for everyone to learn what actually happened. It's a must-see." The film has same day-and-date release in Russia, so the business it does in the Motherland after that state-sanctioned bouquet is the real must-see.
If anything, it underscores what an intriguing Oscar race we're about to behold.
'HIGH NOON' ON THE REMAKE ROAD
Hot on the heels of Antoine Fuqua's remake of the 1960 classic western The Magnificent Seven comes word that the 1952 Gary Cooper classic High Noon is about to be redone. The film will be set modern-day on the US/Mexican border and will be produced by Karen Kramer, widow of the legendary Stanley Kramer, who produced the original, which was directed by Fred Zinnemann (From Here to Eternity; The Day of the Jackal).
TROLL FEAR KEEPS FILM FROM CANNES
Here's yet another example of somebody pushing back against the idiots of the Internet.
French/Canadian director Xavier Dolan won't be taking his new film Death and Life of John F Donovan to Cannes because, he says (via Instagram): 'The culture of trolling, bullying and unwarranted hatred shouldn't be an inextricable part of the cinematic or analytical adventure. But since it appears we live in a time where they are unable to be dissociated, it is one's right to choose different trajectories for his work, without necessarily acting out of frustration or reprisal.'
IN MEMORIAM
We note with sadness the passing of: Charmian Carr, 73, best known for playing Liesl in The Sound of Music; Canadian author W.P. Kinsella, 81, who wrote Shoeless Joe, the 1982 novel on which the cult hit film Field of Dreams was based; director/writer Curtis Hanson, 71, responsible for LA Confidential; 8 Mile; Wonder Boys; Too Big To Fail; The Hand That Rocks the Cradle; and Losin' It (Tom Cruise's first film).