Jim Schembri's new release movie reviews: November 27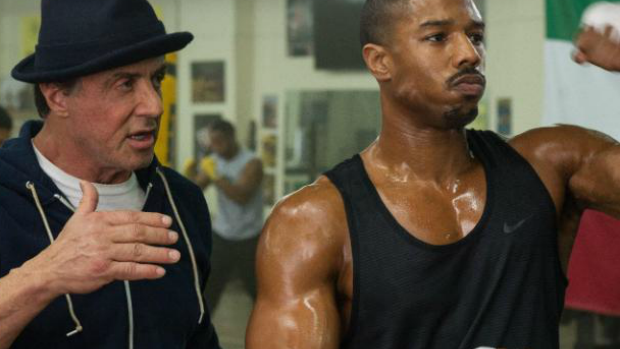 CREED *** (133 minutes) M
Those Philadelphia steps made famous in 1976's Rocky as Sylvester Stallone's titular underdog hero powered up them are now a gasp-inducing challenge to a body aged, bruised and beaten by too many sequels.
Yet in this heartfelt, respectful franchise extender (produced, with Stallone, original Rocky duo Robert Chartoff & Irwin Winkler) Rocky manages well enough with the aid of his new charge Adonis Johnson (Michael B Jordan). He's the illegitimate son of Apollo Creed (Carl Weathers), who only survived until Rocky IV before being pounded into the next life by the robotic Russian Drago (Dolph Lundgren).
With a chip on his shoulder the side of a beef carcas, Adonis is a loner who needs Rocky's help to train him up so he can prove himself to himself. And as we all know by now, the only place to do that is in the ring, duking it out with a suitably intimidating nemesis (nicely served up here by narrow-eyed British boxer Tony Bellew).
The film chiefly uses the events of Rocky III – when Creed reignited Rocky's dying spirit by becoming his trainer – as foreshadowing for this well-thought over story. With heavy emphasis on the theme of self-respect, Jordan and director/co-writer Ryan Coogler (reteaming after the controversial Fruitvale Station) essentially pay extended homage to the Rocky legacy, the final sequence eagerly restating the big dramatic statement from the original film.
It's very difficult to imagine anyone with even a passing interest in the Rocky films not enjoying Creed, and Coogler does bring a new, single-take style to the face-distorting fight scenes.
On the line: Actor Ben Foster fiercely channels the arrogance of disgraced cyclist Lance Armstrong in The Program.
THE PROGRAM *** (104 minutes) M
As if intended as counter-programming to the noble themes of Creed comes The Program, a very solid, no-holds-barred portrait of the dubious win-at-all-costs spirit of cyclist Lance Armstrong.
With the indefatigable veteran British director Stephen Frears at the helm – his love of tracking shots put you right in the middle of these perilous rides – Ben Foster (The Messenger; Lone Survivor) fiercely channels that bizarre, contradictory cocktail of drive, courage and arrogance that turned Armstrong into such a magnetic, powerful and, ultimately, despicable sports star.
Funnyman Chris O'Dowd does well playing it straight portraying David Walsh, the British journalist whose old-school investigative work exposed Armstrong.
A very good, revealing film about the extraordinary pressure of modern competitive sport and the man who has become something of a negative role model, even though his backstory as a cancer survivor does allow room for sympathy.
Face off: An aging man is confronted by the sins of his murderous past in the absorbing documentary The Look of Silence.
THE LOOK OF SILENCE **** (103 minutes; subtitled) M
After the masterful, haunting The Act of Killing, which recounted in horrific, stylised detail the mass murder of communists in Indonesia during the 1960s, Joshua Oppenheimer revisits the same territory, this time following an optometrist whose aged clients include those who terrorised his family.
While the first film caught but a glimpse of conscience as one perpetrator is faced with the enormity of his crimes, this sequel features much more soul-pricking confrontation and demands from the aging perpetrators that questions stop being asked.
Unpunished, some of the killers, now living comfortable lives with their families, seem to relish remembering and recreating their deeds while others shudder at the mention. It's another voyage into the motives of mass-murder, a topic made all the more disturbing by the unspeakable atrocities of today.
All in the family: The arrival of a grandson has Dracula suffering separation anxiety in the delightful Hotel Transylvania 2.
HOTEL TRANSYLVANIA 2 *** (89 minutes) PG
A delightful, perfectly formed sequel to the animated ghouls-are-good original. This time around Count Dracula (Adam Sandler) has to deal with separation anxiety as his daughter Mavis (Selena Gomez) has a child with her mortal husband. Mel Brooks chimes in with funny support as Dracula's dad. As with the first film, the animation is gloriously kinetic. What more needs to be said? If you liked the first one…
All at sea: Brad Pitt (left) and director Angelina Jolie Pitt fail to ignite the lifeless drama By The Sea.
BY THE SEA * (132 minutes) MA
Oh dear. Having proved that she's serious about being taken seriously as a filmmaker with In the Land of Blood and Honey (2011) and Unbroken (2014), Angelina Jolie – now known as Angelina Jolie Pitt – takes a big step backwards with this dull romantic drama.
A troubled couple played by Jolie and real-life husband Brad Pitt – so should that be Pitt and Pitt? – take a holiday in a lovely seaside villa. He's a writer looking for inspiration, she's suffering from an unnamed malady and spends much of her time moping and lounging around, sunbaking and flirting with young men.
The discovery of a hole in the wall that peeks directly into the bedroom of the sexy young couple next door injects some perverse fizz into their fizzling relationship. This leads to double dates with the couple and the allure of infidelity.
Sounds sexy and enticing, and given the amount of time Jolie – sorry, Jolie Pitt – spends filming herself naked in the bath (no complaints there) that's what she intended, yet her direction is so leaden and the pace so slow the film largely unwinds as dramatically inert and uninteresting.
It's a common complaint these days how too many films just take too damn long to tell their stories, and this is the latest example. You've really got to have a good reason for your film to go over two hours and one idly wonders how much better this film, written by Jolie Pitt, would have been had somebody had the nerve to tell her to lose 20 minutes.
One good thing about the movie is that, though set in France, it was mostly shot in Malta, a place where lots of big films are made, so the glorious photography of sheer cliffs, sun-drenched cafes and clear blue water will no doubt be a boost for the tiny country's tourism.