Jim Schembri's new release reviews – December 4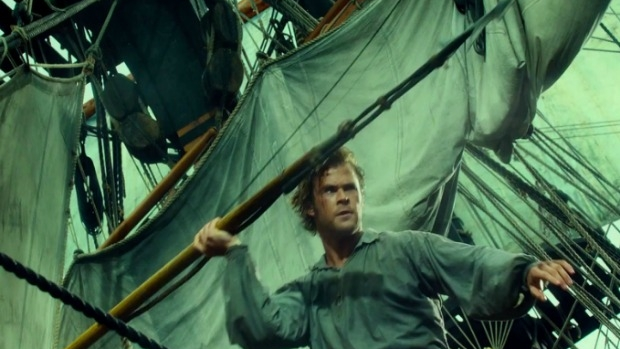 IN THE HEART OF THE SEA ***1/2 (122 minutes) M
If it's a rollicking sea adventure you're after, it's hard to beat Ron Howard's wave-riding jaunt across the ocean as first-mate Chris Hemsworth and captain Benjamin Walker knock heads in their lengthy quest for whale products.
Based on the 2000 non-fiction book by Nathaniel Philbrick, the whale-hunt-gone wrong saga is apparently the real yarn on which Herman Melville based Moby Dick. As with the car-race movie Rush (which also starred Hemsworth), Howard proves himself a modern master of digital technology, which he harnesses to mount action scenes of remarkable veracity.
Here, scenes of harpooning and the destruction you get when you make a giant whale angry are vivid and lashed with splintered wood and sea-spray as men go flying across the waves. And though the men are slaughtering whales, Howard keeps at bay any retro-fitted enviro-friendly agenda by making the whale the type of revenge-driven villain who doesn't know when to stop.
A beautifully produced, rousing adventure for boys.
Phoning it in: Seth Rogen puts in yet another rote performance in the passable Christmas comedy The Night Before.
THE NIGHT BEFORE **1/2 (101 minutes) MA
It's Christmas-film time as Seth Rogen, Joseph Gordon-Levitt and Anthony Mackie play three close chums who enjoy an annual ritual of getting wasted on Christmas eve. With their lives now heading in different directions requiring the assumption of responsibility, they decide this will be their final jolly jaunt through the city. Loaded with party drugs and with Rogen putting in yet another of his rote man-child performances – really, Seth, enough already – it's a pleasant enough time-killer, though all the improvised scenes with over-lapping dialogue are a little hard to make out. Fans of religious jokes will find a nice treat during a party scene, proving once and for all how Passion of the Christ parodies just never get old.
Damage control: Cate Blanchett is outstanding as a journalist who gets it wrong in the compelling drama Truth.
TRUTH **** (125 minutes) M
Those with a jaded view of journalism in the 21st century are unlikely to have their faith reinflated by James Vanderbilt's excoriating critique of the modern media and the manner in which excuses are mader to paper over incompetence. Truth is also the latest reminder of what a versatile, risk-loving and compelling actress Cate Blanchett is.
Based on the book Truth and Duty: The Press, the President and the Privilege of Power by former 60 Minutes producer Mary Mapes, played by Blanchett, the film recounts the 2004 story presented by Dan Rather (Robert Redford) that supposedly exposed how George W Bush received favourable treatment during his time with the Texas Air National Guard in the 1970s.
Yet what was meant to be a major scandal for the president ended up being a major scandal for CBS when big questions were quickly raised online about the authenticity of the documents upon which the story was based. Though supposedly from the 1970s and composed on typewriters, some of the memos appeared to have been written on Microsoft Word.
Briskly paced, the film unfolds as a captivating fiasco about presumption, bias, hidden agendas and the elasticity of journalistic ethics. In a performance that richly deserves Oscar attention, Blanchett projects the cocktail of drive, self-belief, self-deception and unfathomable arrogance that contributed to the mess. She really is stunning.
In several scenes she effortlessly exudes the hubris of the 'if we said it then it must be true' school of journalism, wherein evidence that she got it wrong is countered with a powerful barrage of rhetoric, excuse-making and plain denial. Even as it becomes clear that she has based the story on documents that could not be authenticated she will not relent.
When confronted by a corporate suit that she and her team did not honour the Golden Rule of journalism – fact checking – she stands by the story, even as it disintegrates around her. It's a neat coincidence that in The Program we have a contrasting scene where a newspaper editor tells his reporter how he refuses to run a story unless it can be proved to be true.
The film also serves a sound backhander to the notion of journalistic independence, as Mapes and Rather are allowed to do the follow-up on the fallout to their initial story in an effort to cover their own backsides. Consequently, this attempt at damage control actually makes things much worse, which makes for great drama.
Redford, a well-known liberal, deserves kudos for his performance as Rather, a relic of the old-school who is shaken to the core but who never loses his signature composure. Filmed in Sydney, Truth also features a host of convincingly accented local talent including Rachael Blake, Andrew McFarlane and Noni Hazlehurst.
Truth easily stands alongside Sydney Pollack's Absence of Malice and James Bridges' Perfect (yes, the John Travolta aerobics movie) as one of the best films about media misbehaviour.
Alas, the film has been a major box-office fizzer in the US and has opened very quietly here. The fear is that Truth will come and go without the notice it deserves.
As well as being a piercing drama on an important issue, it should be mandatory viewing for anybody serious about entering the ever-perilous world of 21st century journalism. As for fans of Blanchett, they should consider it a must-see.
Odd couple: Jesse Eisenberg and Jason Segel spark off each other in the two-hander The End of the Tour.
END OF THE TOUR *** (106 minutes) M
Bolstered by two pleasantly contrasting performances, End of the Tour is a decently engaging, energetic two-hander that recounts the bristly interviews between Rolling Stone reporter David Lipsky (Jesse Eisenberg) and reclusive author David Foster Wallace (Jason Segel), whose 1996 book Infinite Jest captured the zeitgeist and roused Lipsky's admiration and envy. Director James Ponsoldt (Smashed; The Spectacular Now) uses dialogue to drill into the vagaries of the creative process, with Eisenberg especially impressive as the motor-mouthed inquisitor opposite Segel's endearing turn as a relaxed slacker genius. An enjoyable arthouse offering.
Indievillage Doco Film Festival
Everybody loves a good documentary and starting tonight at the Cameo in Belgrave and the fabulous new Lido cinemas in Hawthorn is a weekend of quality docs. Two strongly recommended highlights include:
THE CHIMPANZEE COMPLEX In a portrait of abused primates that is about as far from cute as you can get, director Marc Schmidt takes us inside a facility that attempts to rehabilitate chimps that have grown up in isolation from other chimps. Some worked in circuses, others were raised as pets. Now in connected pens they scream at the first sight of others of their own kind. Their carers inevitably form bonds with their distressed charges, but it's a volatile relationship as they remind us how violent these apes can be, despite their deceptive human-like behaviour. Those with weak stomachs need to be warned: there's footage here of a deeply disturbed chimpanzee who repeatedly eats his own vomit. The chimps are also effectively on death row. If their behaviour doesn't improve they could be put down.
Screens: Saturday 1pm Lido & Cameo
THE VISIT: AN ALIEN ENCOUNTER We've long fantasised about the astronomically remote prospect of Earth being visited by aliens intelligent – or stupid – enough to want to communicate with us. But what if such an event actually occurred? This fascinating thought experiment by Michael Madsen takes us through the established protocols that really exist and how the governments of the world and bodies such as the United Nations might react. What questions would be asked? Who would greet the visitors? Why are they here? The answers make for a lovely piece of speculation.
Screens: Sunday 5pm Lido & Cameo
For more info and details please visit: http://www.indievillagedocofilmfest.com/