Jim Schembri's New Release Movie Reviews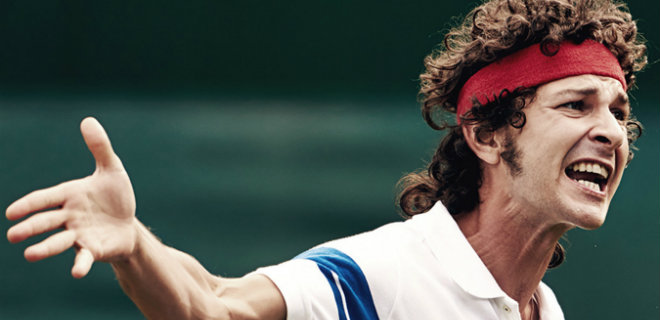 Jim attended the Screen Producers Australia event at Crown and interviewed two notable local producers. Check out the link below.
But first. – Jim's movie reviews for this week.
BORG VS. MCENROE ***1/2 (108 minutes) M
The intense, and intensely scrutinised, rivalry between Swedish tennis great Bjorn Borg and American John McEnroe during Wimbledon in 1980 gets a terrific, energetic recreation in an historical sports drama that easily matches the high-stakes drama of the recent Battle of the Sexes.
As the fiery upstart John McEnroe, Shia LaBeouf again shows just how good he can be when he is not playing opposite a Transformer robot while Swedish actor Sverrir Gudnason is all pent-up anger as the deceptively cool Borg, whose approach to the game is nigh-on religious compared to McEnroe's.
Through lengthy, unhurried flashbacks, we see how the influence of their early years shaped their public personas. These absorbing sequences fuel the story and frame the on-court battle between Borg and McEnroe as a contest in which each is facing down – and literlly beating down – their respective demons.
Director Janus Metz draws great drama from their conflicting personalities and, in the final reels, pulls off that rare feat of filling an event with extraordinary tension despite its outcome being a matter of historical record.
JUSTICE LEAGUE ** (120 minutes) M
More of the same as the DC Comics superhero empire tries matching its rival Marvel's Avengers franchise with its own super-team. The results are loud, flashy and all too under-whelming for being oh-so familiar. (Will we ever be free of blue energy bolts?)
Wonder Woman (Gal Gadot), Batman (Ben Affleck), Aquaman (Jason Momoa), Superman (Henry Cavill), The Flash (Ezra Miller) and Cyborg (Ray Fisher) band together to do battle against a world-hungry villain who looks and sounds a lot like the one in Thor: Ragnorok.
Speaking of which, the huge success of Thor 3 and the new-found seam of comedy therein has a considerable blow-back effect on this circus.
A few gags aside, Justice League is a largely straight-faced adventure that leaves you with a Thor-induced thirst for more joking. This is meant to be fun, so why is everyone so serious?
The action is, once again, based on destruction so, once again, we spend an inordinate amount of our time watching rubble fly as things crash and explode. The Flash and his gift of super-speed is perhaps most interesting character here though Aquaman and his Nordic love of the ocean looks set for a folklore heavy origin film.
MURDER ON THE ORIENT EXPRESS * (114 minutes) M
Whenever we seek to illustrate the dearth of ideas and originality presently afflicting Hollywood we tend to cite the latest clutch of blockbuster tentpole films aimed squarely at the global movie market's lowest common denomintor.
Yet with the glossy remake of Agatha Christie's Murder on the Orient Express – done so memorably in 1974 by Sidney Lumet – director Kenneth Branagh presents for us a prestigious, high-brow example of a studio film that is, by any fair measure, creatively dead.
For the first 30 minutes or so the film unspools like a showreel of 1930s period design as the film's titular train chugs its way across a snow-blasted corner of Europe, host to the murder of one of its small inventory of peculiar passengers.
But that's more a case of admiring the film's budget, not its artistry, which fails to bring anything new to the plot. Even the story's so-called "twist" remains the same as the one in the 1974 film, raising the question too seldom asked in Hollywood: "So, what's the point of this remake?"
Branagh directs with a leaden hand, all-too respectful of the film's lofty source and clearly too scared to inject anything fresh into the proceedings. Even his A-pay-grade cast – Judi Dench, Penelope Cruz, Johnny Depp, Josh Gadd, Willem DaFoe, Michelle Pfeiffer – is dull.
Kudos and all for casting Daisy Ridley (The Force Awakens), so why not do something really interesting and fill the rest of the cast with up-and-comers, or even with brilliantly talented unknowns?
Why not update the film by setting it present day or in an interesting era, like the 1970s? Why does Branagh cast himself as detective Hercule Poirot? Why not give the role to somebody at the beginning of their career?
The only hint of originality here is the garnishing of Poirot with a handlebar moustache so ludicrously over-sized that, from a distance, it actually looks like Branagh is holding a real bicycle handlebar in his mouth.
And why not change that ending and give us a twist with real breath-stopping power? The original film is now 44-years old, putting any spoiler warnings way beyond the statute of limitations.
Remakes, in principle, are fine so long as – like murderers in a great mystery – they have a sufficiently strong motive. And when challenged about the remaking of classic films, the oft-stated defense is that the remake introduces a new audience to a classic title.
This is dubious, to say the least. Maybe a generation ago, when old films required a little bit of effort to track down, that might have been a viable rationale.
Today, however, films are instantly accessible on any number of digital platforms and devices, so you can literally have somebody watching a deeply loved classic film 30 seconds after recommending it. There is no need to remake it. This, perhaps, was the biggest lesson from the valiant, if ill-fated, remake of Ben-Hur.
And as if to offer its own self-critique, the movie kicks off with a gag where Poirot steps in a mound of dung. Beware of any film that uses such a device as a scene setter, however appropriate a signal it turns out to be.
LUCKY *** (88 minutes) MA
Harry Dean Stanton's final film is a fitting, small-scale charmer about an old, much-loved man living out his last days in a town populated by an endearing gaggle of eccentrics. As one of America's most renown character actors, Stanton was a life-long champion of the less-is-more school of acting, a skill he was clearly in full possession of here. Note his golden reaction to a dissertation about the game show Deal or No Deal. Debut director John Carroll Lynch is best known as an actor, most famous for his turns as Marge's husband in Fargo and as one of the McDonald's brothers in The Founder.
SCREEN FOREVER 2017 – INTERVIEWS
About 750 film industry notables turned up for the Screen Producers Australia annual event Screen Forever down at the Crown Conference centre. In attendance and ready for their close-ups were local notables Beatrix Holland, who spoke about the marketing of The Dressmaker, and LA-based Werribee lad Luke Rivett, who discussed the principles of bringing a local film to a big audience.
Please enjoy these lively chats.