Jim Schembri's New Release Movies. 5th Jan, 2018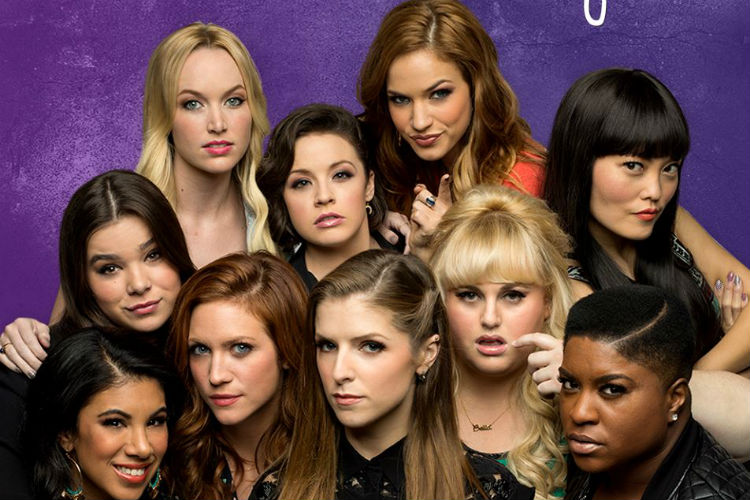 PITCH PERFECT 3 **1/2 (93 minutes) M
With the clock quickly running out on the comic appeal of the misadventures of the Bellas all-girl acapella group, the final Pitch Perfect film – or thus we are promised – takes the formula out for one more ditzy spin.
With the post-grad girls all stuck in terrible jobs they reform the Bellas and join a USO tour to entertain American troops serving overseas.
Unfortunately, their tour of duty takes them to Spain instead of somewhere far more interesting and dangerous, thus depriving us of a scenario where Fat Amy (Rebel Wilson) and Beca (Anna Kendrick) lead the girls on a mission against terrorists. (But if they are thinking of a fouth film…)
Instead we have a rather watery plot involving Amy's criminal dad (John Lithgow sporting a suitably dodgy Aussie accent) and a half-hearted rivaly with a band called Evermoist, lead by Orange is the New Black's enfant terrible Ruby Rose.
Fans will be pleased enough with the slapstick and musical offerings here, and will no doubt notice the film's quickening pace, with each scene eager to get to the next singing sequence. Wilson, again, owns the film with her pleasantly abrasive wit, her broad appeal spiced by the fact that this is her first movie to come out after her libel case victory.
THREE BILLBOARDS OUTSIDE EBBING, MISSOURI ***1/2 (115 minutes) MA
An outraged mother goes to war with her local police department over what she perceives to be the lack of investigative work that went into the rape and murder of her daughter.
Yet while the mother is initially presented as a beacon of righteousness as she defiantly rents three decrepit billboards on a lonely road to vent her anger, things turn out to be far more complicated once we begin seeing things from the police chief's point of view.
Frances McDormand (Fargo) and Woody Harrelson (The People vs Larry Flynt) are in top form as they twist the cliche of good citizen vs bad system inside out to reveal a far more complicated truth. What emerges is a parable that rails against today's impulse to rush to judgment.
Great support comes from Aussie Abbie Cornish (as the chief's wife) and Sam Rockwell (as one of the cops); British writer/director Martin McDonagh (Seven Psychopaths; In Bruges) injects his signature brand of dark humour into the proceedings (a trait he shares with brother John Michael McDonagh, who made The Guard & Calvary) to create an absorbing portrait of how ignoble the quest for justice can be and how moral foot-stomping can often signal that something important is being overlooked.
ALL THE MONEY IN THE WORLD ***1/2 (132 minutes) MA
Director Ridley Scott's detailed recounting of how oil billionaire Jean Paul Getty reacted to the kidnapping of his grandson in 1973 makes for a largely compelling crime-drama procedural while presenting a jagged insight into the mind of the super-rich.
Despite being one of the world's richest humans, Getty is shown to be so cheap he'd rather wash his own laundry than pay for it to be cleaned. So when he is approached for the $17 million ransom he casually, and publicly,  dismisses it as a poor investment as it would merely make the rest of his family lucrative targets.
Scott does a great job pacing the procedural aspects of the film as his chief investigator (Mark Wahlberg) mediates his boss's eccentricities with the demands of Getty's former daughter-in-law (Michelle Williams), who lives in fear that the kidnappers will respond to Getty's public smarminess by killing her son.
As well as being a terrific crime drama, All the Money in the World also has the questionable distinction of being the first major film to entirely replace one of its stars after post-production.
As everybody knows by now, Kevin Spacey was originally cast as Getty and apparently put in an Oscar-worthy performance. However, the recent allegations of sexual misconduct that have derailed his career rendered his presence in the film a liability.
So, with remarkable efficiency, Scott reshot all his scenes with veteran Christopher Plummer, who, as it happens, was apparently the first choice for the role and who, to his enormous credit, also puts in an award-worthy turn.
Look as hard as you might, but it's damn near impossible to pick the seams in these scenes, perhaps reflecting the fact that Scott had gone through something similar on the set of Gladiator (2000) when Oliver Reed died three scenes short and Scott had to rework the rest of his performance with unused footage, some nimble rewriting by William Nicholson and a lot of digital wizardry.
Of course, the larger question remains as to just how proper it is to change art for reasons that have nothing to do with art, and how arbitrarily the value of an existing work – be it a film, a painting, a sculpture or whatever – can change because of a shift in the perception of the artist who created it. For instance, what if the allegations had surfaced during the film's release?
It remains to be seen whether Spacey's performance will ever be seen. In any other circumstance it'd just be a matter of waiting for the special DVD edition to come out. The curiosity to see it is clearly there, but the moral reasoning for its obliteration from the film make that unlikely, at least in the near future.
 BIG IN JAPAN ***1/2 (100 minutes)
In an era where becoming famous need have nothing to do with talent or skill, Melbourne filmmaking trio David Elliot-Jones, Lachlan McLeod and Louis Dai decided to explore issue by going to Japan, a land where fame can be easier to obtain than breathing space on a bullet train. The result is a remarkable, twisted, very funny odyssey into the worlds of media-saturation and fame infatuation.
For reasons best known to the Japanese themselves, foreigners hold a strange power over their attention and any eccentricity is seen as deliciously exotic.
As an experiment the trio set about making Dave famous, fully aware that such a thing would be almost impossible in Australia given his lack of matinee idol looks, charisma or personality.
When not working as teachers in Tokyo they filmed almost every moment of Dave's two-year journey through Japan's bizarre fame maze, shooting hundreds of hours of footage.
They also profile three famous-in-Japan personalities: Ladybeard, an Adelaide-born performer who dresses like a girl; Kelsey Parnigoni, a Canadian woman who reinvented herself as a J-Pop star; and Bob Sapp, aka The Beast, a big, black American fighter who plays against his intimidating presence by playing cute.
As a documentary on the nature of 21st century fame, Big in Japan is as eccentric as some of its stars. Full of often startling insights into Japanese media culture and the extend to which some will go to become famous, the film offers a compelling, cack-filled chronicle about the ease with which one can rise above the masses, thanks largely to the masses' unquenchable hunger for distraction.
After an early preview of the film before Christmas two of the makers, Dave and Louis, sat down for a chat about the making and meaning of the film.
For the interview please click here:
To see the trailer, please click here:
For an update on where the film is screening, please click here:
www.biginjapandoc.com/screenings