Kate Stevenson's Christmas Gift Guide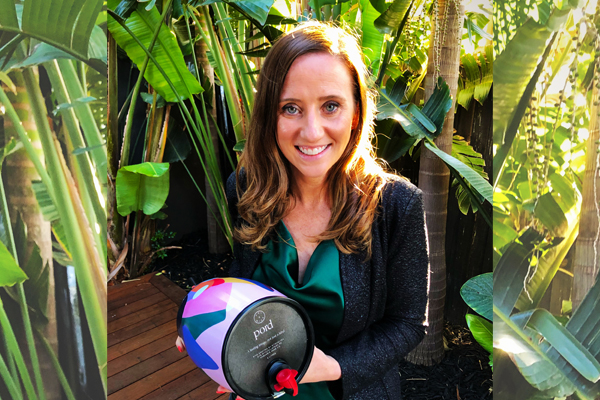 EDIBLE ENDOWMENTS
ON THE FIRST DAY OF CHEESEMAS – Born of a love of cheese, 12 Days of Cheese is the perfect gift for the cheese lover in your life – twelve artisanal French Cheeses packaged in a hand crafted box. There are only a limited number available for sale, deliveries for Melbourne only so they can ensure freshness. Premium cheeses include Brique Daffinois; Will Studd Brillant Savarin; Marcel Petite Comte & Le Dauphin Soumaintrain. www.12daysofcheese.com.au
LET IT SNOW – Piccolina & LuxBite have joined forces to create a limited edition gelato cake dubbed the 'Snowball'. Made from Piccolina's 100 percent natural gelato, the Snowball will feature a layered centre of coconut semifreddo with roasted almond & condensed milk and a self-saucing caramelised almond praliné, salted puffed rice crunch, coconut gelato, covered in coconut snow and finished with an exploding silver leaf chocolate Christmas party popper. It's available in-store at all Piccolina locations from Monday, 26 November and priced at $85. http://piccolinagelateria.com.au
THAT'S THE POINT – My favourite eating destination for the year was easily the fabulous, Pt Leo Estate – with it's sculpture park, laid back restaurant, and fine diner Laura. So how about a gift voucher so someone in your life can see how good it is!? https://www.ptleoestate.com.au/products/gift-vouchers/
HISPANIC TREATS – Argentinian trio San Telmo, Palermo, & Asado are selling gifts for the South America-phile in your life. From sweet treats like alfajores, stunning house-made Dulce de leche caramel or highly coveted chimichurri; to Tramotina knives for the steak lover in your life. They're each available at any of the three venues and can be pre-ordered via info@santelmo.com.au
THE GIFT OF GIVING (GIFT VOUCHERS) – The Aus Venue Co 45 venues across the country, and 28 here in Melbourne including Beer DeLuxe in the city & Hawthorn; Middle Park Hotel; O'Connells in South Melbourne and The Provincial in Fitzroy, so a voucher for their establishments gives your loved ones a huge choice of watering holes and popular kitchens. https://www.ausvenueco.com.au/gift-vouchers
TASTY TOURS – Why not give a uniquely Melbourne Food Experience, Allan Campion knows Melbourne backwards, and runs a range of tours that are sure to please anyone who's interested in the restaurants, bars, and hidden secrets of Melbourne – such as a "Best of Melbourne" progressive restaurant tour. Start with coffee at City Wine Shop, enjoy snacks at San Telmo, a dish at Pastuso, and signature plates at Supernormal, before finishing up on the river at Pure South. Gift certificates are available to be used on any tour or experience. https://melbournefoodexperiences.com.au/melbourne-food-experiences-videos/
GETAWAY GIFTS
TEMPTING TENTS – want to give an experience rather than a "thing", how about a night away 'Glamping Amongst the Vines', at the stunning Terindah Estate on the Bellarine. The recipient will spent the night perched atop the cliff, waking to sweeping views across Port Phillip Bay in one of 15 luxury bell tents. Gift vouchers are available so they can choose a night that suits them, picnic hampers and breakfast baskets are available too. www.terindahestate.com
BOOZE BOONS
NO "G" WITHOUT "T" – for the Gin & Tonic lovers in your life (like me), they'll no there is no good gin without great tonic. So, one of the best – Fever-Tree – has released the Ultimate Tonic Water Selection, giving you the chance to experiment with exciting new flavour combinations. Each variety pack contains Fever-Tree Premium Indian, Aromatic, Mediterranean and Elderflower Tonic Waters, and they're available at Dan Murphy's and other leading bottle stores while stocks last.
CHRISTMAS SPARKLES – For the bubblier people in your life, tickets to the 2019 Prosecco Festival will be perfect! It'll kick off on Saturday 23 February at Northcote Town Hall and tickets go on sale this week. Fifty bucks will get you entry, a Plumm teardrop tasting glass that's yours to keep, a reusable totebag, and tasting of over 40 different Proseccos on the day. You can chat to winemakers, lounge in the Spritz garden, or try Prosecco flavoured salami, cannoli and gelato. Plus there'll be pizza, pasta, and arancini on sale, or splurge on a VIP tickets which include a masterclass with Mel Brauer, the Prosecco Queen! www.proseccofestival.com.au
FANCY SCHMANCY – it's cask but not as you know it. For the discerning friend who appreciated fine wine and finer art, Pord combines the two. Working with leading Australian artists, founder Chloe Oestreich created this small, limited edition, eight-inch mini wine barrel that is bespoke, but also reusable. She hoped to make art more accessible but turning it into a centrepiece at your next dinner party. Each Pord comes with a certificate of authenticity, hand signed and numbered by the artist; and is filled with Michelton Estate's Shiraz, Pinot Grigio or Rosé. https://pord.com.au
DELIGHTFUL DEGUSTATION – Whether you intend to GIN-gle all the way or put the RUM in "pa-rum pum pum pum" the new State of Grace has the perfect gift experience for cocktail lovers, in the spirit of Christmas! Their cocktail degustations return in January, February and March 2019. $100 gets you a four course dinner and four matched cocktails served in the hidden cellar bar. https://www.stateofgracemelbourne.com.au/event/cocktail-degustation/
READING REWARDS
Here are some of my favourite food & drink books of the year, there's something in here for everyone:
– "Cellar Bar" by Guy Grossi; a day in the life of the iconic Melbourne restaurant
– "Ottolenghi Simple" by Yotam Ottolenghi; easily my favourite recipe book of the year

– "The Cook's Apprentice" by Stephanie Alexander; a go-to bible for the younger cook
– "Food Safari: Earth Fire Water" by Maeve O'Meara; a look at world cuisines cooked with ingredients from the earth's elements
– "Eat at the Bar" by Matt McConnell & Jo Gamvros; ohhh, how we love Bar Lourinha!