Killer Borce faces court as daughter provides 'glowing' character reference
Borce Ristevski's daughter Sarah has provided a "glowing" character reference for her father in court after declining to make a victim impact statement about her mother's death.
Ristevski faced court on Wednesday for a plea hearing after admitting he killed his wife Karen.
But he hasn't revealed how he did it.
The prosecution says Borce hasn't outlined his reason or method.
Ristevski's lawyers have told court those points aren't relevant for determining the seriousness of his offending.
The judge says not knowing how or why the killing occurred has impacted profoundly on many people.
BELOW: Sarah Ristevski's character reference for her father.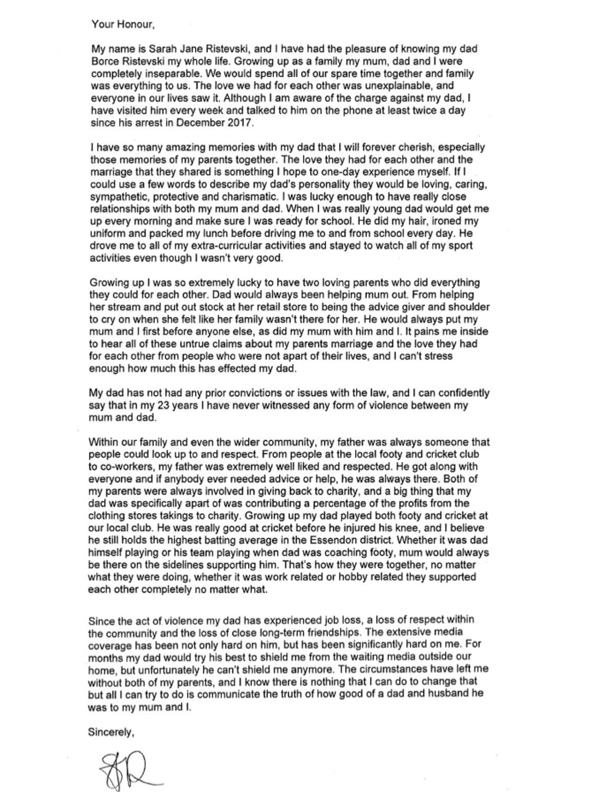 Ristevski will be sentenced for manslaughter on April 18.
He originally told police his wife, 47, left their Avondale Heights home in 2016 to go for a walk after an argument about money, and that she never returned.
Eight months later, Ms Ristevski's body was discovered in bushland near Mount Macedon.
Days later, Borce was a pallbearer at Karen's funeral.
Ristevski's son says he killed his wife over money, claiming their business was failing and that the couple's Avondale Heights home was was in Karen's name.
Anthony Rickard told Channel 7 Borce should be sentenced to 25 years jail for the crime.