Las Vegas fire star witness Reggie Bugmuncher's 15 minutes of fame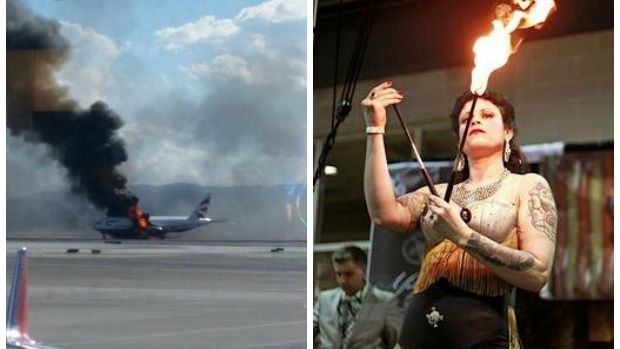 A burlesque performer has become the star witness of the spectacular plane fire on a Las Vegas runway yesterday, and it's partly her name that's captured everyone's interest.
Reggie Bugmuncher posted a photo on Instagram of the London-bound British Airways plane in flames and quickly became one of the eyewitnesses quoted in reports around the world.
But it wasn't just the photo she took as she waited to board her flight.
The glass-eating, fire breathing sideshow performer's last name and job was a topic of interest on Twitter.
'Doing what I do I don't scare that easily, but that was really terrifying,' she said on 3AW Breakfast.
She said it was 'bonkers' that some of the passengers appeared to be carrying their luggage as they fled the plane.
LISTEN: Ross and John talk to Reggie Bugmuncher